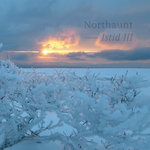 Artist:
Northaunt
(@)
Title:
Istid III
Format:
CD
Label:
Glacial Movements
(@)
Rated:
This release is presented in the liner notes as a reaction to modern lives imaging a place without any stress or noise in an uncontaminated icy place. Hærleif Langås, the artist behind this project, is from Norway and shares with other projects this sort of nostalgia for a silent nature before man; more importantly, it's a reflection on the role of man as a member of its environment and not a sort of his deus-ex-machina.
This opus is a single track in five parts: "Part I" is based upon a quiet loop while the underlying soundscape ebb and flow in audial field creating an immersive introduction for the listener. "Part II" is more focused on the development of an environment using a sort of field recording, or foley sounds, with a continuous tone to focus the listening attention. "Part III" tries an hint of melody with gentle notes of the piano and "Part IV" doubles this framework using instead a drone creating an atmosphere of surreal peace. "Part V" closes this release with a solemn and solar drone surrounding the listener as a sort of sonic depiction of the cover image.
It couldn't be anything ground-breaking but the quality of sonic construction is sometimes mesmerizing and this is a sure pick for fans of quiet and canonical ambient. It's really worth a careful listen.
Artist:
Ernesto Diaz-Infante
(@)
Title:
The Lover's Escape (Los Amantes Escapan)
Format:
CD
Label:
Kendra Steiner Editions
(@)
Rated:
This new release by the Californian guitarist is based on a different framework compared to "Manitas": while the former is a long, and spectral, piece based on a political stance, this one sounds more as a personal portrait. From a musical perspective, this release is a proper showcase of the way of playing developed from the initial use of strumming to his most recent, and quieter, release where he explores the use of silence.
The album is articulated in three long tracks: "Hold me in a deep sleep", based on quiet and slow notes, immersed in pure silence, searching for a long release of the instrument with the result of almost hiding in the environment instead of surrounding the listener. "Watching your eyes awake" is based on the same principles but using chords and a certain reverb and it's perhaps even slower in its development giving time to contemplate the sustain. After all this quietness, "Off into the wilderness where we walk with no gravity" is a strumming song where a rainbow of nuances appears from an apparent stillness, hypnotizing the listener.
The apparently trivial movement of the three parts from sparse notes to strumming is the key element of a poetic oriented to the personal depiction of everyday's feeling rather than rhetorical statements. Recommended but listen with care.
Artist:
Callenberg
Title:
Dear Satellite
Format:
Download Only (MP3 + Lossless)
Label:
Bend Records
(@)
Rated:
Lovers of legendary vintage synths will be delighted while listening to this nice output by Anders Callenberg (signing his releases by his surname only), a Swedish drone-folk producer and songwriter, who left microphone and guitar aside for the making of "Dear Satellite" in order to forge twelve nice electronic tracks. To do that, he mainly used a glorious member of the huge Yamaha family of CS synths, the CS70M, the one who immediately preceded the notorious CS80. Its recognisable bubbly basses and its fat sounds together with its flexible LFO fill the polyphonic melodies, that got inspired - I appreciated the honesty by the author - by Boards Of Canada (I'd say this great Scottish project was the main source of inspiration, as particularly clear on tracks like "Off Guard Again", "Long wait for Geri" or "Winter road kept not"), Kraftwerk ("Jack's beat"), Brian Eno and other "obscure electro bands" he didn't mention, but I hear some resemblances with the electro-driven downbeat stuff by Lee Norris/Metamatics or Bauri on tracks like "Are we screwed?" or "Some stones are really hard". There are many tracks (the mellow song "What if we never get there?" seems quoting BOC in the reverb surrounding the polyphonic melody, spicing a song structure that could resemble the ones by Nikakoi, John Foxx or Norken), where the above-mentioned influences and resemblances get wisely melted, and there are many others where it's clear this artist features a certain sense of humour (have a check for instance to the nice vocal sample of "International boredom conference"). The album is available as a digital download (available on the main digital stores as well), but Anders announced a forthcoming tape version on the website of his imprint.
Fourth album of this formerly bicephalous project (it was founded in 2008 by Gianclaudio Hashem 'Kaeba' Moniri and Giuseppe 'Agan' Carlini) on Kvitnu and the second one after one of the two heads fell down (Giuseppe left the project for a personal break in 2014 just before Plaster's release of 'Mainstream' in 2015), 'Transition' features a remarkably rougher sound than the above-mentioned predecessor, as Gianclaudio preferred that kind of approach that is closer to one of many electronic performers, who really improvise on live stage. In the author's own words, 'Transition' "comes from a different perspective of Plaster's past works in terms of emotions and sounds. My aim was to reduce the amount of complexity in order to maintain the tracks simple but effective. I wanted to be close to the people in daily life. Most of the tracks are pure improvisations using analog synths and hardware, there's no additional editing or post-production adopting the way of thinking 'Less Is More'." All tracks don't feature programmed beats or drums, but they are mostly based on masterfully distorted synth-line and overlapping distorted tones, but Gianclaudio manages to turn these swirling sonorities into something that often pierce listener's soul and ears than many percussive tracks. Many tracks (such as the splashy light distortions of "Unregistered Product", the smothered saturations of 'The Last Goodbye' or the slowly spooky synth-stabs of 'Caress From The Unknown') could resemble the ones that some known old foxes of Rome techno scene (D'Arcangelo brothers or Lorenzo D'Angelo, better known as Lory D) tried to explore by seducing the glorious Rephlex as well as many listeners, but they aren't isolated experiments, but are cohesive parts of a sort of narrative sonic flow, whose "skinniest" moments ("The Climbers", "Disconnected Heart" or the final "Children On The Cliff") are paradoxically the more significant moments...
Artist:
Arovane + Porya Hatami
Title:
Organism_evolution
Format:
Download Only (MP3 + Lossless)
Label:
Karlrecords
I reviewed "Organism" last year, and "Organism_evolution" is essentially more of the same. The exchanging-sounds-by-post process continues between Berlin-based Uwe Zahn and Iranian Porya Hatami continues in much the same way, resulting in a collection of 23 short soundscape pieces of electroacoustic noises, organic-sounding burbling and gurgling, gentle clicking, processed found sounds, and soft windy drones, pads and echoes. The alien-womb-like theme of the previous release continues.

There are a lot of short ideas here, many only lasting a minute, at times being reminiscent of Radiophonic Workshop experiments in sound which were regarded more like sound effects than music, evidenced in pieces like "Creature_517". "Stimuli" is a prime example of a short environmental piece, event-free as a self-contained atmosphere. Longer pieces like "mata_evolve" allow more breathing space and show how exquisite some of this ambient soundscaping can be when allowed to spread and allow the mesmeric properties to come forward.

"Nucleotide" is an anachronistic piece, dismissing the organic components in favour of electronic arcing and feedback that sounds like it could be a single layer from a Cabaret Voltaire track.

If you loved "Organism", you'll appreciate the second chapter in the experimental collaboration, although whether it moves anything forward compared to the first installment may be debatable. And if you like the sound of this in principle, dip in at any point in the process- form and order isn't the order of the day here.