Artist: First Tone
Title: Reactions
Format: 2 x 12" vinyl
Label: Spectrum Spools

The duo of Turk Dietrich and Duane Pitre have been collaborating on sound for years, but this is their debut set of available recordings. It doesn't sound like the work of a duo, in that it's a simple and direct vision of atmospheric drone and tone with a singular purpose, devoid of any of the back-and-forth or turbulence that collaborative work can be imbued with.

The meat of the release is four long pieces, that average around 12 minutes each. "Reaction 1" is slightly gritty with a mildly sinister hollow and metallic drone tone (exhibiting a gentle tension which re-emerges in short piece "Recollection" later on), whereas "Reiterations" has a far more pure and melodic make-up that opens with a powerful and emotive call before settling into flatter tones. "Reaction 2" offers up synthesis that feels very organic, and quite clarinet-like at times, but still with a hint of artifice and alienation.

Ultimately this is ambient soundscaping across well-worn territory, and while there's undoubtedly a rich sonic quality here, it does seem to fall just a little short in terms of unique texture or distinctive character. It's a very pleasant 55-minute way to fall asleep, undoubtedly, but if you're alert and looking for sonic detail, you may find this is the wrong kind of ambient for you.
Artist: C.A.R.
Title: Pressure Drop EP
Format: 12" vinyl + Download
Label: Ransom Note Records

Chloé Raunet, as C.A.R., successfully blends elements of experimental punk-pop with electronica. I rated last year's "Pinned" album. This is the first new material since then, and it's from the some sonic world, but with perhaps an extra shade of maturity in there as well.

The main track has a steady, slightly U.N.K.L.E.-ish groove that mixes straight brooding rock-ish beats with ultra-epic pads and atmospherics, which the spoken word talk of loneliness matches well.

The Suzanne Kraft remix spins it really nicely, keeping the overall vibe not too dissimilar but shifting it over to a chugging electro pattern that's steady, workmanlike, but varied enough to keep it all interesting.

Final track "Suture" is classic B-side / album track territory, a chance for something a little more experimental to see the light of day- in this case a grumbling ballad-like number laden with bleeps, effects and some quasi-ethnic melodic sounds. The "stop my heart!" mantra that comes in halfway through is really strong, but this feels like a strong standalone idea that couldn't find a box to sit in.

It's a welcome and fairly prompt return from C.A.R. and it bodes well for future releases, for sure.
Artist:
Astatine
Title:
Global Exposure
Format:
CD + Download
Label:
Sound In Silence
Stéphane Recrosio's solo project Astatine gives us a curiously sketchy release here in "Global Exposure". It's twenty tracks of lo-fi ideas and noodlings that feel variously either accidentally or deliberately muted, muffled, experimentally mixed, or just raw. There are guitar pieces with vocals that border on songs, but they seem like insular bedroom demo versions, lacking in confidence or punch, and with awfully recorded vocals at times- but in the context of more consciously ambient works, they feel like they make more sense.

Most of the twenty tracks are short- only a handful top the three minute mark- but when pieces like "Monotron 5" are allowed to breathe, with their dark echoing ambiences and windy tones, the coherences starts shining through. "Etude125", with its mixture of drone and distant radio signal style noises, is a highlight, as is the varispeed playfulness of prosaically named "Snow Loop #7".

The mood also jumps here and there quite a lot, with angrier tracks like guitar-hammering "Muzrub" shaking you down and pushing the rather thin lo-fi production approach to its edge. By contrast, despite its endearingly frustrated title, "This Rail Junction Is A Disaster" is practically a guitar ballad. Some grungy pieces like "Decipher The Fall" fall a little flat, but details like unexpected drums in "L'Art De La Defaite" keep the surprises coming throughout.

Rawness and rough edges abound on a release that seems to epitomise the introverted solo experimental guitarist genre, but which absolutely has its strengths. This will strike a chord, quietly, with quite a few listeners, I expect, although others are likely to dismiss it's thoroughly low-quality sonics as amateurish or 'the wrong kind' of lo-fi.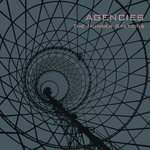 Deep music for deep listening to immerse in varied moods and textures where melodic fragments luxuriously float in plush atmospherics, some serene and some disquieting. Indeed, the album title, like some track names suggest Cold War era tension and this listener cannot help but feel that Agencies may be tapping into memories of when humanity was closer to the horrific brink. The Number Stations opens with the psychedelic, "When Tomorrow Becomes Today", where disquieting ambient fits right at home under the 'illbient' genre. Saturated in reverberating, choppily phasing psychedelic fragments that echo in the perpetual distance—like fever dreams—as tones ripple, dissolve, then re-materialize, fragment and re-assemble into a continuous, dizzying loop. This track serves the function of 'time machine' and takes the listener back to a narrative that is about to unfold. Subsequent track, the aptly named, "Quarantine the Past" has remnants of the psychedelic ripple, only this time on a more serene backdrop as the waves then become modulating, near-retro sublime synth tones. A din of radio chatter from mission control levitates as radio signals float in the aether and dissolve into ongoing ripples of time. "Shelters" offers a tentative, fledgling start amidst a sedated plume of angst while playful Casiotone notes and distant guitar flows through much the way a child weaves through throngs that queue to the bomb shelter. The magic in the track is in how discord is successfully merged with a sense of playful wonderment. "Time Lag Accumulation" opens with metallic resonance as if from turning bike spokes before pensive keyboards materialize and bring calm reassurance, even when a disembodied vocal chorus joins. Wood instruments interplay for an intermission of tranquility. "Wasp Network" sets the tone for tension with nice, dramatic synth sweeps and understated beats, radio signal transmissions and voices that indecipherably intone with a sense of urgency that dissolves midway through into another dreamy excursion. "Standing Wave Levitation" and "Carriers" are both comparatively serene yet brief ambient tracks; the former accentuated with understated melody and guitar feedback, the latter has faint toybox tunes within the larger drone tone. "Errornets" is melancholic infused with static crackles and enigmatic shuffling, but "Static Dead Lines" is more expansive; a fuller, lush backdrop with understated beats and muted melodies. Among the more mellifluous tracks is "End of Transmission" which starts with a barrage of radio frequency feedback before sequaying into an orchestral cinematic ambient piece complimented with acoustic guitar and piano, culminating into a wash of bliss. Finally, the title track, "The Number Stations" caps the release on a somewhat dramatic note, melds drone and ambient seamlessly—though it starts off with discord it is then overwhelmed with guitar ambience and piano fragments that fall like a drizzle amidst distant static crackles. It is not known whether the narrative is stuck in time, but what remains is a lingering sense of bittersweet and wistful melancholy. If you are into deep, lush and layered yet masterfully crafted ambient-drone with melodic overtones, this album is for you.
Artist: Anthony Baldino
Title: Twelve Twenty Two
Format: 2 x 12" vinyl
Label: MethLab Recordings

Anthony Baldino has been successfully plying his trade as a sound designer for film trailers, with a CV that includes plenty of Avengers-level blockbusters (and according to IMDB a bunch of producer credits too, though that may be crossed wires). He's now turned his attention to a debut full-length instrumental electronica LP, in which he applies many of the modern, sharp, digital sonic techniques you'll recognise, but also takes the opportunity to explore longer and more atmospheric scenes, not constraining the drama to the classic 2 minutes 30 trailer limit.

The glitchy granular synthesis in tracks like opener "Fading Quickly Now" or the second half of "Fractal" are extremely reminiscent of Brian Transeau's soundtrack work, as it's practically BT's signature sound. "Artax", with its brutally cut-up synth pad and rubbery bass tones, sets a gentler vibe, whereas pieces like "Quad Axial" invoke Aphex Twin-ish frantic and obtuse approaches to rhythm programming that result in skittish, playful, hard-to-pin-down grooves. It's never especially light work, but "Drifting Further" with its quirky bleeps, running into more laidback final track "Beneath The Fall", do offer a wrap-up that has a hint of brightness that offsets the bleakness to an extent.

The trailer influence is most noticeable on tracks like "Dust", with its tension-inducing pulsing that feels tailor-made for some post-apocalyptic sci-fi, or "Fractal" with its dark, ominous icy deep cracking tones. At points it does feel a little like a showreel, pitching for soundtrack work- but that's no bad thing, and as a showreel it's certainly strong.

This is a release that oozes quality and confidence, from a clearly experienced sound designer. There are times where it feels like it lacks its own distinctive voice or character, and follows the rulebook of the dark glitchy electronic world too closely, but that doesn't take away from the energy and polish that it's been infused with. Over the space of 45 minutes it broods nicely and leaves you both gently chastised and impressed.