Artist:
EGIDA AUREA
(@)
Title:
Storia Di Una Rondine
Format:
MCD (Mini CD)
Label:
Wolf Age Records
(@)
Distributor:
HAURUCK! SPQR
Rated:
After their really good track "Il giorno delle chimiche brume" (don't worry you can find it also on this MCD) released on the mp3 online compilation "Donec Ad Metam" edited by www.neo-folk.it, Egida Aurea are back with their debut MCD. Coming from Genova/Italy the band has on its line-up members of Recondita Stirpe (Carolina Cecchinato, Fernando Cherchi, Mirko Giorgini and Guglielmo Amore) along with Diego Bachero (active with the dark progressive bands Malombra, Il Segno Del Comando which name comes from a 70's Italian tv serial and with a doom metal band called Zess active during the fall of the 80's). The four tracks of the MCD bring to the attention of dark folk music lovers a band which sound is peculiar and deeply rooted into the Italian tradition. The folk tradition has been filtered through the progressive Italian music experience (check bands sich as Il Rovescio Della Medaglia or Biglietto Per L'inferno to realize how particular was their music) and through the new-folk attitude. To make you better understand what I mean, try to think about the approach that Geoffrey D. had toward French traditional music with his project Derniere Volonte. Egida Aurea did the same with Italian music and personally I think that they succeeded into proposing fascinating songs like "Storia di una rondine" (I think it tells the story of a partisan who's waiting for the invader and once captured he's been executed) and the forementioned 'Il giorno delle chimiche brume". If you love the genre you can't miss this particular blend of percussive acoustic militaristic and poetic folk!
Artist:
VIGILANTE
(@)
Title:
War Of Ideas
Format:
2CD (double CD)
Label:
Black Rain
(@)
Rated:
After a line-up change (Iván Muñoz is now the only one left who's helped out on live gigs by Lucía Ponticas - Keyboards and Daniel Duarte - Guitars) Vigilante are back with their second full length. The eleven new tracks have enhanced the crossover with the modern industrial metal genre and if tracks like the opening "Fair flight", "Fire" or "Victims" are still referring to the old industrial metal e.b.m. because of the way the sequencer is used, tracks like "Get in the ring" and "Black day" sound respectively influenced by Fear Factory and Korn. Refreshing a solid genre based on heavy rhythms and sounds isn't that easy and trying to do something new is a good thing but, as usual, everything depends on the response of the lovers of the genre. Anyway, the album sounds solid even if it doesn't contain impressive songs that will become classics. It contains some good ones that you'll spin more than others but there isn't a re-visitation of the industrial metal e.b.m. genre. For the lovers of remixes, the first press of 1000 copies has a free CD containing remixes of "Fair fight", "Fire", "Forever" and "The other side" for a total of twelve tracks (thanks to Reikka RPM, Dreamside, Lamia, Sophya, Amateur God, Deadcell, etc.). If you won't hurry you'll be able to enjoy the "Fire" video of CD1.
image not
available
anymore
Artist:
Psyche
(@)
Title:
Club Salvation
Format:
CD
Label:
Rivetting Promotions
(@)
Rated:
Psyche formed in Edmonton, Alberta, Canada in late 1982. Through the years they gained a cult status for the, here included, Q Lazarus cover of "Goodbye Horses" (that appears in the "Silence of the Lambs" OST) and released many albums with a distinct but ever-evolving style mixing ebm, minimal synth, synthpop and a softer blend of industrial. The first album was out on the legendary New Rose label, home of French coldwave bands Charles De Goal and Résistance and famous for having put out the first cd edition of Virgin Prunes. From the beginning the nucleus of the band consisted of Darrin Huss - with the help of many collaborators. This collection is meant both for fans that didn't follow Darrin's latest progressions and for people approaching Psyche for the first time because includes some classic stuff. There's also an update to their classic hit called "Unveiling the Secret 2.0" (which came out in 2006 both on cd and 12" with lots of interesting remixes). Judging from the many dates on Darrin's myspace (http://www.myspace.com/psyche), Psyche are alive and kicking in 2008.
Artist:
Astral
(@)
Title:
Transmitter
Format:
CD EP
Label:
Vibraphone Records
(@)
Rated:
"Transmitter" is an engaging work that uses dreampop with postpunk reminiscences to position the listener in a somehow hypnotic calm. Their debut album called "Orchids" was a strange and compelling blend of Cure-influenced shoegaze/dreampop, now with this new Ep they shifted to a less distorted style with influences ranging from late Chameleons UK or early For Against. It's a grower for sure - and it's amazing how much perspective I've gained in the past six months listening to it because now I'm totally in love with "Yesterday's Calling". Astral deserve to be
listened to.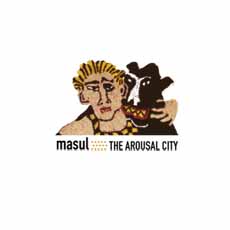 Artist:
MASUL
Title:
arousal city
Format:
CD
Label:
Creative Sources
(@)
Rated:
Wow, even thought I love Creative Sources and even if I think despite its hyper-productivity is still one those labels that deserves a particular consideration for the great mount of music (and musicians) they've been putting together. On the other hand the considerable risk is that of an homologated view of the electro-acoustic scenario, but with releases like this one the whole perspective changes considerably. Obviously you have some of the distinctive sound solutions of the label, but Giallorenzo and Mejer sometimes throw in some contemporary classic interventions that make it special. Sometimes I've had the impression I was listening to some compositions by Centazzo, Berio or Feldman hybridized with some electro-acoustic ideas. Another thing I can't but appreciate is that this duo is not afraid of playing melodic though in a minimalist mood, clearly they've their personal conception of melody but they manage to build some really suggestive atmospheres. In the third excerpt of Arousal City, when they keep playing a simple melody in this minimal-serial way, you can also perceive some reminiscences of Terry Riley (sometimes it really reminded me so much of "in C") most basic works. This release sounds minimal but really intense and above all it grows during the listening. I'm tented to talk about this work in terms of "strength through simplicity", but I feel I've to underline the fact if you love contemporary music with melody and with heart, you should definitely try this out.