Artist:
Matteo Uggeri | Luca Mauri | Francesco Giannico
(@)
Title:
Pagetos
Format:
CD
Label:
Boring Machines
(@)
Rated:
It's 4.56 AM, the trampling onto an icy ground under the heavystep of boot-covered feet breaks the silence and in the meanwhile the observer pushes off the slush and the smashed ice, he goes a few paces before stopping and staring at the enchanting fixity of a snow-white homogenous scenery in the middle of boundless steep slopes and the almost surreal nocturnal glow of the omnivorous whiteness, emphasized by gentle piano strokes, crystalline guitar plucks and soft plonks. So it begins the fourth and supposedly final act of the tetralogy "Between The Elements", based on an interesting concept, a variation on the typicial and almost cliched seasonal theme, based on tangencies and intersections between natural elements (Pagetos is the Greek word for hoarfrost, the meeting point between earth and water), developed by MB (Maurizio Bianchi), Hue aka Matteo Uggeri and Spyros Abatelios and musically dramatized by talented pianist Francesco Giannico aka Mark Hamn, guitar player Luca Mauri and cello samples by Andrea Serrapiglio this time. It's just gone half an hour, it's 5.34 AM, the temperature is falling and while the rime looks like covering everything, cold gets bitter and bitter so that it pierces the body without any wound by making it blue from cold, teeth are chattering (as suggested by field recordings), the mute melodies of "Calaverna" flows into the solitary contemplation of "Icy Leaves", whereas even the trumpet solo by Uggeri crystallizes while blowing on piano's wavering. It's 7.27 AM and the cold has become so severe than the silent hero of this winter tale takes refuge in a mountain shelter (you could hear noises which look like coming from inside of it), but just after one hour he cannot resist to the inviting symbiosis offered by the natural show surrounding him, so that the track "Cold Air" sounds like the highest peak of such an idyll, but after the entrancing lights of aurora, the light warmth of the morning begins the frost and puts an end to the temporary stand-by of frozen passions and compulsions, which dramatically resurfaces with their burden of frustration and suffering in the final track. I didn't devised a nice way to review this record by an imaginary timeline, but tracklist (and its imaginary plot) evolves on a time span between late night and first hours of morning, emphasizing the synaesthetic appeal of the listening experience.
Artist:
Empire State Human
Title:
The Art
Format:
Download Only (MP3 + Lossless)
Label:
House Of Analogue
Rated:
We have to go back to 2009 to find the previous Empire State Human album "Audio Gothic" which has been release by Ninthwave Records. During these years Aidan Casserly didn't rest on his laurels as released other two albums under his own name. After starting their own label House Of Analogue, Aidan and Lar Kiernan, released a new Empire State Human single the last December. That single had two songs you won't find on this new album titled "The Art". "The Art" has ten new songs that will make you feel like at home: comfy and cool. It opens and closes with two ballads: "Killer In Me" and "The Pioneers". Two passionate songs with orchestral arrangements that with a bit of melancholy point toward a brighter future. In the middle the duo give their best creating synthpop dance hits like "Search For Love", "My Passion", "Easy Colour" or catchy mid tempos like "The Secret Life Of Artists" or "Apollo (Extended)". I think that "The Art" is a blast. It sounds more balanced and powerful compared to "Audio Gothic" and it has no flaws or rip off songs (and I'm not telling that the previous one had some). Empire State Human is one of those few bands that you can purchase with no hesitation as they do their best to bring you the finest melodies. Like craftsmen they make their songs putting all their love and after three times I listen to their album in a row, you can trust me!
Artist:
c.db.sn
Title:
...At the End of it All
Format:
CDS (CD Single)
Label:
Tympanik Audio
(@)
Rated:
c.db.sn, also known as Chase Dobson is an American Producer. His second solo effort ''¦At the End of it All' is now available on Tympanik Audio. It's quite an interesting record, that weaves its way through lush textures, soft pads, soundscapes, electronic beats and full on glitch. His work has grown considerably since his debut 'Into the Deep' was released in 2008. The disc opens with a rich textural base, which sets the stage for the dubstep 'like beats and wobbly basses that populate the piece which is entitled 'The Stillness of Hours.' It then progresses to the title track, which I can only describe as tender hip hop; a very simple tune, maybe even too simple. We evolve through a variety of different fields of electronic, ambient, glitch, and IDM on this release, but it doesn't get REALLY great until track 5, 'A Silent Sea' with a good bit of diversity and very nice soundscapes that slowly lead into a solid glitch groove and back again. This is par for the course for most of the songs herein; those most worthy of note: 'Airport [Never_Land],' 'Data Transmit' and 'As if December Never Happened.' The only real downfall of this album, is that most of the beats and/or glitches, tend to be set on repeat, with little variation. I mean, there are really just that, LITTLE variations, which can cause several songs to begin to feel monotonous. The only other complaint I have, is the INCREDIBLE 'The Stars Falling Cold' is FAR too short, and doesn't get justice, but I think that's more of a positive than a negative really. All in all, a good record certainly worth a listen, maybe even a second listen, which is when this one really began to grow on me.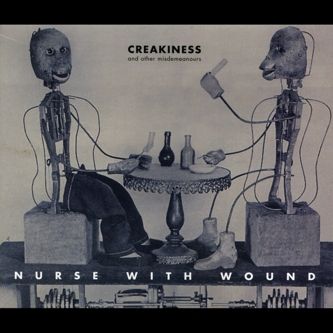 Artist:
Nurse With Wound
Title:
Creakiness and Other Misdemeanors
Format:
CD
Label:
United Jnana
(@)
Distributor:
Midheaven
Rated:
The five tracks that make up Creakiness And Other Misdemeanours will take you on a bizarre voyage, journeying through vintage arcades, through forests and across dark rivers, where jeweled crocodiles and pagan priestesses cavort along the banks, performing obscure rituals for unnamed purposes.

Creakiness... is comprised of rare recordings that span 14 years. "Creakiness" was originally released in 1991, as a split 12" with the group Spasm. For this outing, Nurse with Wound were Stephen Stapleton, Joolie Wood, James Mannox, and Tony Wakeford, and it is a five part sound poem of car horns and Warner Brothers cartoons, Bugs Bunny and Daffy Duck cavorting around the stereo field in a dizzying array, smoothly segueing into a haunted house atmosphere of creaking doors and pagan mantras, and the unearthly beauty of heartfelt mysticism is doubly effective, arising from the goofiness.

"Twisted Mona" and "Mona Twisted" are actually two halves to the same coin, originally released as Salt Women Tragedy, the third installment in the Echo Poeme Sequence series, as a 7" for Klanggalerie in 2005. The original was notoriously plagued by pressing issues, so a proper re-issue makes sense. The two Monas are a meditation on the human voice, a subdued woman's voice incanting in German, slowly panning from left to right, while temple bells that sound like clanking boats give a ghost ship ambiance. It sounds like another world, an alternate reality full of magick and romance, the slow repetitions hypnotic and soothing, pleasant on the ears. It'll have you swaying.

"Little Dipper Minus Two (echo poeme sequence 1) has more siren's song, alluring and seductive, with swelling electronic feedback punctuated by quicksilver stabs of synthesizer, little puffs of steam, and the occasional barking dog. It seems like something is happening, there is some narrative work at here, but it is murky, undefined, mysterious. The ambiance seems to rise and fall in a random fashion, there is a sense of an inner logic, but the structure seems organic, frayed and trailing, yet hanging together, like an auditory ecosystem.

"A Perfectly Natural Explanation" finishes things off; a woman's voice simply repeating the song title, while broken radio static fills the left side of the headphones, and a submerged string quartet takes the right.

Considering the disparate sources of the various tracks, it makes sense that Creakiness would come across as a somewhat disjointed affair but it makes sense, after a fashion. Since the beginning, Stephen Stapleton has described NWW as "surrealist music," citing the likes of Dali and the Comte de Leautremont as influences, right along with fellow wreckers of civilization like Throbbing Gristle and Z' ev. NWW's music has always been expansive and unpredictable, and it has always had more of a sense of humor than the bleak misanthropy of his industrial contemporaries, which just makes the uneasy listening more unsettling. The secret sauce that makes Nurse With Wound's music work, is a familiarity with the roots of electronic music, musique concrete and early synth experiments, and the way that sounds are tuned and placed in the stereo field reveal a master's touch. Nurse With Wound are simultaneously high- and low- brow, goofy and mystical. Complex.

Stapleton's music is most definitely not for everyone, and i don't believe i've ever encountered an artist that has such a polarizing effect on crowds. Chance Meeting On A Dissecting Table..., their infamous first record, will clear out a party faster than a dog fart, possibly annulling marriages in the process. The songs are long and avoid succumbing to the strictures of pop music, like harmony, melody, rhythm. They are works of abstract sound-art. For those disposed towards letting music infect their inner worlds, blossoming like phosphorescent fungal blooms behind closed eyelids, Nurse With Wound is essential listening.
Even though this collaborative release by a strong cast of musicians coming from different stylistical fields, recorded in two different sessions in Sardinia (in TiConZero studio, with the only exception of the second track, recorded live at Signal festival in Cagliari) two years ago, landed on my desk a little bit behind schedule, I'm still in time to introduce it to our beloved readers. This ensemble, made up of Simon Balestrazzi (besides electronics, he cares the preparation of a toy psaltery), Alessandro Olla (label manager of TiConZero, which started as a cultural association aimed at the renewal of musical language through innovative compositional and performative techniques before being a label), Ikue Mori (Japanese talented drummer, which entered in the history of music alongside Arto Lindsay and Tom Wright, the line up of the seminal No Wave band DNA, which coined a number of valuable tracks of that short-lived but important artistic scene, who's dabbling in sonic researches on laptop and drum machines at the moment), Sylvie Courvoiser (skillful Swiss pianist and composer, who collaborated with a plenty of great musicians such as John Zorn, Erik Friedlander, Mark Feldman, Yusef Lateef, Butch Morris, Tom Rainey and many others) and, last but not least, Maja S.K.Ratkje (Norwegian electronic, but above all vocal performer, whose funny vocal moulding is one of the pivotal element for the outcome of this "Treasure Hunt"), sounds like the overlapping of different stylistical maps, where each sonic scout's report converge to one game, whose aim is not really the finding of some trasure, but a metaphorical and somewhat ironic and foolish representation of the dramatic plot of contemporary man and its hectic desire for fulfillment of material needs, when it's too close to forlorn treasure hunts, so that you can imagine this odissey of the mind treads paths that Sylvie's piano retraces with heavy tumbles like in "Tokyo Map" where other elements sounds like squelched while they swirl, primes and emphasizes emotional bombs such as in "So Sorry", whereas the initial tension turns into ghastly peals (wonderfully evoked by Maja), paralyzing melodies and noisy electric storms, becomes a scenic element whereas field recordings or electronics dominate the sonic space such as in "So It Falls", "Anywhere Else" (significantly placed at the end of album, where field recordings which features some children's rowdy yelling, a solitary whistling getting over some confusing crowd's noise and other sonic clues look like marking a sort of blurred arriving point) or "Solanas", or coalesces with other elements of the ensemble such as in "Alive", where the pianist's touches sound like driving any emotional transmutation, wonderfully highlighted by Maja's throat - her vocal malleability as well as some weird or offbeat gimmicks (being my favorite ones those in "So Sorry", where she effects her voice in devilish delays, peeps and suppressed shouts, and in "Alive", where you can imagine her while turning into a gargling mermaid!) are really astonishing! -. The rallying point of the various geographical and emotional provenances has been well depicted by Multiforme's design which included the reproduction of La Carte du Tendre (Map of Tendre), an allegorical map of an imaginary land called Tendre related to the virtous path towards love, which was produced by a number of different authors, just like this protean "Treasure Hunt".