image not
available
anymore
Artist:
GOTHICA
(@)
Title:
The Cliff Of Suicide
Format:
CD
Label:
Cruel Moon
(@)
Distributor:
Audioglobe
BUY from
THE CLIFF OF SUICIDE is the second CD for this Italian band which found home in the realm of Cruel Moon, the Cold Meat Industry sister label devoted to folk dark sounds. The CD opens the feast with "Nel Buio", a track which immediately shows to the listener what he's about to listen: ten tracks full of pathos and love, influenced by Dead Can Dance and by medieval atmospheres. If you listen carefully to the music it can easily reminds you Brendan Perry's arpeggios as well his taste about strings arrangements. In this case it's not a mere copy and if you loved that band you can easily appreciate Gothica. Stefania's vocals can't be compared to Lisa Gerrard's one but we are talking about different styles because as you can easily guess from their name, Gothica gathered on their music all the influences dear to the Italian gothic movement filtering them with their cultural background. If you already read my reviews you know that I don't like that much this style of singing (I preferred Roberto's) but I definitively appreciated the atmospheres and the music of the band. Check it out if you love dark and medieval tunes with good musical pieces. P.s. The CD contains also the video clip of the main title which you can watch with your computer.
image not
available
anymore
After two albums, two mini cds and a line up change, Scream Silence produced an intense and melancholic album. The ten tracks of this new release sound gothic with a little bit of metal and tons of melody, while Hardys' vocals paint desolate landscapes of love delusions. Being romantic and powerful at the same time, SEVEN TEARS with tracks like "Timid Try" (beautiful melody with energic riffs which convinced me since the first listening), "Morphosis", "Asylum" or the powerful "Consolation" is a good album with at least five beautiful tracks. Sometimes the tracks sounds similar but the general atmosphere is compact and pleasant and you'll find yourself playing some tracks over and over. Scream Silence with this album remembered me also a rock version of the new Covenant musical path. Germany is discovering itself romantic and energetic at the same time and it seems to like it...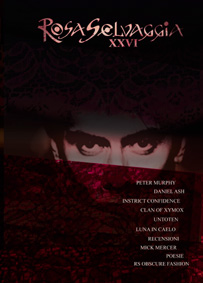 ROSA SELVAGGIA IV is a compilation which is sold with the glossy magazine of the same name. Into this issue 26 you can find interviews with: Peter Murphy, Daniel Ash, Clan of Xymox, Untoten, Luna in Caelo, GOR, Mick Mercer, In Strict Confidence, dj Franz, Simone Arcagni, Mouth of Indiffernce, Pleasure and Pain plus articles, writings and reviews. The CD contains unreleased tracks or rare ones of the following Italian bands: Gothica, Spiritual Front, Lily's Puff, Northgate, Vidi Aquam, Runes Order, Etoile Noire, Hysterie, Rose Rovine e Amanti, Enigma Eden, Daniele Brusaschetto, Psycho D-Vein, Aenima, Siking With Love. The sound goes to goth/post punk/new wave (Sinking With Love, Psycho D-Vein, Vidi Aquam, Aenima, Etoile Noire, Northgate), folk/dark (Gothica, Rose Rovine E Amanti, Lily's Puff, Spiritual Front) to electronic/industrial/dark (Runes Order, Hysterie, Daniele Brusaschetto, Enigma Eden). I don't have the magazine but I think that it's in Italian language. These are the rates to get a copy in Italy: 10.oo Euro + 1.86 for the CD version or 5,oo Euro + 1.86 for the magazine only. Write them or send the money to Rosa Selvaggia, via Venezia 10, 2003 Cologno Monzese (MI).
image not
available
anymore
Here we are with a new CD coming from mine/our old friend Mikko Muranen. As few months ago here's a new release of his new project, Mutantum. If you read my review or had the opportunity to listen to "Sonic Sideshow" you'll be surprised listening this new release as into EXP² you won't find anything similar to the previous album. As stated by the title, into this sixty eight minutes CD you won't find nothing but sound experiments based on synthetic layers and treated sounds coming from unknown sources. Only few have got guitars, but the result is explosive (check "Explosé" where the guitar solos end up in thousand explosions). The nine tracks don't deal at all with rock sounds as Mikko this time decided to explore the dephts of his "sonic sideshow". All the tracks have got their distinctive characteristics and sounds which help diversifying the various movements showing in this way Mikko's multifaceted soul. To be totally honest I liked EXP² most as being based on industrial ambient sounds it's able to amaze the audience even more. This is a limited release of only sixty items, so check it out in a rush!
It's enough to cast a look at the cover of the CD by Steven Feld RAINFOREST SOUNDWALKS to be immediately immersed in a special world. The opposite of commonness is not some kind of mystic dream. It is something very simple and probably accessible - land, forests, in other words, just the nature itself and the CD tells a story exactly about nature. It doesn't tell its story using human language, instead making use of that of birds, transmitting the hypnotic "Ambiences of Bosavi, Papua New Guinea" (the subtitle of the CD). This is a far cry from the fussy chirping of city birds. Beginning in 1976, Steven Feld traveled a lot to the exotic place in order to bring the alluring "acoustic depths of Bosavi" to us, listeners, on a convenient one-hour compact disc.

The imagination and mastery of an artist together with sensitiveness and knowledge of a naturalist resulted in RAINFOREST SOUNDWALKS. The four compositions, three of them being united in one series called "The Ambient Soundwalks", make up the sizable picture of this exotic corner of the world, where people still believe in migration of souls and hear the voices of ancestors in the birds singing. Seyak - the local species of butcherbird not only became the title, but also the main and only ingredient of the first composition. Here we can hear its voice in all its beauty, unassisted by other artificial or natural sound sources. In the triptych "The Ambient Soundwalks" the sound is captured in the state of movement both in space and time. "Keafo, morning", "Galo, afternoon", "Nulu, nigh" is the unique mirror of the sound dimension of Oceania, a split twenty-four hours seen through the prism of singing dwellers of Bosavi.

Steven Feld himself appears in several stances. As a scientist he has thoroughly studied the ornithological fauna of Bosavi. As an engineer he has brilliantly recorded, mixed and mastered the breathtaking ?vocal parts? of cicadas, frogs, pigeons, cacadou and other birds. As a composer he has integrated these to a light and colorful musical pastiche. As a photographer he has taken wonderful pictures of Papua New Guinea's landscapes. As a writer he has provided his work with the explanation of his motivations, letting us take a look at the source and meaning of his works.

Cheer up, if you have to stay at home or work, unable to take a trip overseas. RAINFOREST SOUNDWALKS quenches the thirst for changes, gives food to imagination and lets you touch that "feeling of a place" that is mentioned in the introductory text of the CD. Every one of us may feel his affinity to the world of this faraway island, because all income from this record goes to Bosavi People's Fund and The Music Department of the Institute of Papua New Guinea Studies.