Artist:
Velvet Acid Christ
(@)
Title:
The Art Of Breaking Apart
Format:
CD
Label:
Metropolis Records
(@)
Distributor:
Metropolis / Industrial Music
Rated:
Often dead-written, as well as often on returning – Bryan Erickson still polarizes the fans of Electro/Industrial music. Now back with a new album, he has again hired his long-year partner Todd Loomis to help out with the producing procedure. But what several announcements about the content of this album have reported in advance, has become reality, "The Art Of Breaking Apart" is a quite different sounding VAC-album, which only on a very few moments reanimates Bryan glorious deeds of his "Fun With Knives/Twisted Thought Generator" – days. I still think, that his teaser track on the last years' "Septic"- compilation ("Black Rainbows") has been a shock for his fans and wasn't that clever chosen. Good to know and to hear, that not everything has completely changed. The addition of acoustic guitar sounds is surely the biggest and most striking improvement in the sound outfit of VAC. If this all got completely live played and recorded, or if newer PlugIn – technique has helped out here, is one of the unsolved questions, but who cares? The result is globally edgy and very emotional sounding – VAC may have never been sounded that Goth-related on their newer Electronic-driven era until now. Not a bad addition and it may needs 2 – 3 spins more for the die-hard fans to accept this new stylistically direction. But is it really a new direction? I don't think so, just check out Bryan's early rather demo-like self-produced albums like "Fate" for instance. Even if those early recordings lack of a well done studio recording procedure, his signature into this rather Goth-like style is already recognizable. This all ends into the same consequence, to integrate clear and undistorted vocals into some of the rather acoustic-driven tracks – just check "Killing A Stranger" for example. I hear already those "pure heresy" screams of the die-hard Electronica-fans, but be assured, that VAC have also understood, not to break completely with them. "Caustic Disco" is one of those straight-forward arranged tunes with a steady 4/4-on-the-floor beat work, quite comparable to classics like "Wound", "Pretty Toy", "Dial8" or "Fun With Drugs". "Tripped Out", as well as both instrumental tunes "Vaporized" and "Killed In Space" should help the Electronica-minded fan to find this album attractive enough. "The Art Of Breaking Apart" convinces in both styles, the already known Electronica-driven, as well as the not-that-new-discovered acoustic-driven one. This mixture even adds more emotion into the music – and approves once again the great talent of the both responsible protagonists.
Artist:
Suicide Commando
(@)
Title:
Implements Of Hell
Format:
CD
Label:
Metropolis Records
(@)
Distributor:
Metropolis / Industrial Music
Rated:
That Johan van Roy's newly signed contract with the German label giant Out Of Line hasn't altered his traditionally well-going support and distribution via Metropolis Records, is surely a good point for all US-based listeners of the Belgian sound-slaughter. New albums from him are generally a feast for his fans and it seems to be quite sure, that also "Implements Of Hell" will reach a high level of recognition through in and out of this music scene. But this fine fact can not tarnish the impression, that this new album has been produced under a high pressure of time and it seems to be a bit unready – that happens, if you decide to deal with the biggest sharks in the sea. There are good reasons for Johan, since his private life throughout the past 3 years has taken a lot of episodes, which can let a normal musician struggle. At least we have to congratulate to his newborn family addition named Liam. Those things take influence, no matter how much someone would argue against this. "Implements Of Hell" is generally that kind of album you would expect from Johan, but it unfortunately doesn't come up with surprises. At least nearly half of the featured content is already known for his die-hard fans, another typical sign, that this album got compiled in a rush. This album holds his already 2 years old smasher "Hate Me" in a new and revamped version, both tracks of his last teaser release "Die Motherfucker Die" and "Come Down With Me", both tracks of his 7 " vinyl single "Until We Die/Severed Head" - and at least especially this fact is a hit in the faces of all buyers of this special limited item. No worked-out thematically emphasis, this album rather acts like a collection of typically SC-related themes, like his always and often recognized aversion against religion, one serial-killer related track, mankind, death, hate and envy. With "The Pleasures Of Sin" this album offers an ideal additional stomper to the already known "Die Motherfucker Die", especially dedicated to the Hellectro-kids, while his older fans will rather select his both tunes "Until We Die" and "Severed Head". Possible future releases with remix works seem to be near with "God Is In The Rain", which could follow this album soon as being an additional promotion tool. "Implements" of course comes out too in a special limited box-set, which features a bonus remix CD, a shirt and other goodies – at least also this doesn't surprise, as well as the musically content. Well, I can reduce the result of this album on the slightly disrespect formula, that the cow still gives milk – so why should Johan change anything? It even gets difficult, if the "cows" start to think. "Implements..." is an average SC-album, but this means, that it is still better and more intensely produced, than any other 08/15-project out the Harsh EBM/Hellectro-genre would be able to offer.

Artist:
[:SITD:]
(@)
Title:
Rot
Format:
CD
Label:
Metropolis Records
(@)
Distributor:
Metropolis / Industrial Music
Rated:
Germany's label Accession Records seemed to be quite inactive with the beginning of the last year, but they may have waited for the right moment to hit back stronger than ever. Not only scoring with the latest A23 releases, also the second best horse in the (Electronic-) stable offers a new album, [:SITD:]. As usual, Metropolis also knows about the skills behind this project and has once again decided to license them for the fans of the North-American market. After spinning "Rot" for the first time, I was surprised, since it seemed to me, that someone has provided a few vitamin C pills to the protagonists. I guess only on their already 10 years old debut "Laughing Stock" they've been that comparable energetic. "Rot" is generally a harder sounding outfit, while it doesn't leave the known formula of this project discovered on their smashing predecessor tunes like "Kreuzgang" or "Bestie: Mensch". While "Cartharsis (Heal Me, Control Me)" acts typically in a rather mid-tempo minded sound outfit, they pushed the speed in higher measures with the title track. "Pharmakon" seems to be a bit like a twin to "Rot" - also: it is still a striking point, that they mostly score the best with their German tracks featuring a social- or political-critically content – also with their international audience. "Frontal" somehow hits the nail on the target and could be a possible next hit for them. To look out for a tiny hair in the soup is always challenging with this act, because [:SITD:] once again offer the highest quality in all terms of production, although they don't offer anything new. At least also the beloved rather calm and catchy moments are featured as well with "Redemption". So no real point to argue against "Rot" – may exceptionally with the fact, that [:SITD:] in the year 2010 are sounding similar to 2005, but who wants to spit on this?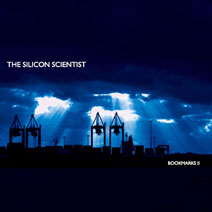 Artist:
THE SILICON SCIENTIST
Title:
Poly/Bookmarks II
Format:
CD + Vinyl
Label:
Anna Logue Records
(@)
Rated:
After releasing in 2006 his first Silicon Scientist record "Windows on the world", Stefan found the time to work on the Sonnenbrant album "Gestern" just to start working again on new solo tunes. POLY is his second album which, as the first, is available in vinyl format only. The album opens with "Silicon beach", a track that immediately makes you dive into the soft waves produced by the polymoog keyboards (you can find sounds produced with Korg MS-10, MS-20, Multimoog, Roland CR-78, SH-101, Solina String Ensemble, Waldorf Pulse Plus). Electro-pop melodies that now have upbeat rhythms (like on "Lost city") and then mid tempos, sound like soft waves thanks to the characteristic sounds of the keyboards used. The bass lines and the synth leads used don't drill your ears but like a dreamy flux they gently rock your cradle. For the lovers of new wave sounds (see the first New Order albums of the late 80s The Cure albums) "Meltdown" will be the track for you, thanks to tribal drums, flanger bass guitar and acoustic guitar. With the new album you can find as bonus a CD containing outtakes coming from the POLY recording session plus compilation tracks ("When the world slows down", and "Submarines - first version" have been released on "Synth stations" and "Hamburg hit news 2006" compilation albums, respectively) and "Inselwinter I"/"Inselwinter II" two songs coming from the first instrumental album which has never been released. These bonuses will make you appreciate even more the melancholic analog synth sounds that Stefan produces (and thta on these ten tracks sound less dreamy) like a craftsman and will show also his dance pop side thanks to the opening song "Seven" (born from a demo made by Annalogue Records boss, Marc Schaffer).
After the peaks on tympanic clapometer reached thanks to its album Supershelter, the German (from Cologne – whose experimental techno scene has been strongly influenced by gay house music as well as by Chicago and Detroit emissions, inducing Glitterbug to introduce it to new notions and emotions... -, but with a solid base of supporters in Israel and Middle East) dj Glitterbug with the complicity of C-Series winks at listener's ears with a series of 12" aiming to anticipate the issue of its brand new album (some rumours say it's going to be a double cd) whose issue is expected to be on the forthcoming spring: Dim Flares is just the first of 3 loss leader EPs including some enchanting tracks Glitterbug has piled after the release of the above-mentioned album. This wedge opens with the dreamy flow of So Much More, a 9-minutes long track whose swelling pads, atmospheric sounds, thrilling claps and organic fills will set your mind on a bizarre melancholic euphoric state and let flow your hands on air while bubbling your thoughts, followed by the shading outlines of Deadpan, an intensively emotional dark-ambient miniature featuring some crammed LFOs. The B-side opens with the mesmerizing clappy deep-techno shapes of Daubed Beams, whose vintage style could remind some techno-ambient movements spread in the second part of the Nineties by legendary labels such as R&S or Warp Records as a logical derivation of freezing acids sprayed by 808 State and similar sound-marks, and closes with the "oecumenical" Be Content, whose mitigated arpeggios, shadowy bass lines and soft percussive sets will let you think about a never-ending eyed-off dance . Delicious!