Artist:
Fixmer/McCarthy
Title:
Into The Night
Format:
CD
Label:
Synthetic Symphony/SPV
Distributor:
SPV
Rated:
Terrence Fixmer, a worldwide renowned Techno DJ and producer and the infamous voice of NITZER EBB, Douglas McCarthy have united once again to release another new album after their successful debut "Between The Devil" in 2004. Was the debut a kind of explosive and straight-forward moving mixture between EBM and Technoid sounds, this new album surprises with a unexpected and rather calm and melodic oriented sound outfit. I must say that Terrence does the best of his part, not to sound too much after some Techno-oriented patterns, the music here generally satisfy multiple tastes. More than this, the sound-wise orientation to include also more melodic elements lets him grow and it will strengthen his reputation. To Douglas McCarthy is nothing more to say than the fact: Yes, he's in here and the magic of his raspy voice is with him. Even if you get the impression, that Terrence's music would turn too much into the Futurepop/Electropop-genre ("Banging Down Your Door", "Tonight I Sleep"), Douglas is there and makes the difference to all those too often heard smooth and gay-like male vocals. Of course some upbeating tunes are included too ("Hate Me", "Love The Night", "Look To Me"), which all work well for the dancefloors. A quite good and interesting album, which has the best attitudes of both musicians included. Fans of the debut, especially those of the straight-oriented Rivethead-culture will may have problems to accept this smoother outfit, but who cares? The musically content of this fine work should be reward enough.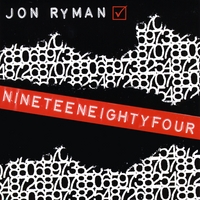 Artist:
JON RYMAN
Title:
Nineteeneightyfour
Format:
CD
Label:
Really Real
Rated:
BUY from
I'm so glad I received this CD. NINETEENEIGHTYFOUR is the fifth Jon Ryman album in fifteen years and shame on me, I didn't know him until now. He works as an electronic music producer since early nineties and his latest album is a blast. He succeeded into blending into these eleven songs (the first one is a 30" introduction) so many elements coming from 80's music in a great way that there's no song that is a filler. The atmospheres goes to songs a la Paul Haig ("Julia") to ones a la Karl Bartos ("Rhythm Machine") passing through Jean Michelle Jarre (the instrumental "Oneohone"), and John Foxx ("Overexposure"). The whole CD sounds fresh with great electronic sounds and good melodies and it catches the sounds and the themes of a period dear to many of us (see the Orwell reference of the title or the one to the Thatcher Falklands period you can read about into the inner sleeve notes) but thinking about it as a mere re-proposition of an era like it was a commercial move for sure is wrong. This CD takes inspiration from a decade of electronic music (maybe for this reason the CD closes with a 90's sounding acid techno track titled "Acid music"... because a kind of electronic music ended then with the born of a new genre) and inspire. Be sure to check it. This is the first release for Really Real and I hope that they will release more gems like this.
image not
available
anymore
Artist:
E.V.P.
(@)
Title:
The Postmortem Canticles Of Necromancy
Format:
CD
Label:
Autumn Wind
(@)
Rated:
THE POSTMORTEM CANTICLES OF NECROMANCY is the debut album of E.V.P. (which stands for Electronic Voice Phenomena, the sections of static noise on the radio or electronic recording which some listeners believe sound like voices speaking). Even if the project started back in 2002 this is their first full length because their demo "Talk to the Dead" has never been released. Being inspired by occultism, necromancy, post-mortem and paranormal activity the album contains thirteen tracks which have been recorded and conceived by Scorpios Androctonus. He did a wonderful job by mixing classical music sounds, industrial sounds, marching rhythms, tribal atmospheres, some electronic sounds and everything useful into the creation of a creepy and evocative atmosphere. Recalling 50's horror movies atmospheres the album seems to be the soundtrack to a grimoire (note the Cornelius Agrippa phrase printed on the fold out poster you can find inside the dvd case of the CD) where the different tracks are the steps of the process. If this month you have the money to purchase only one album and you are a fan of martial industrial genre and you love Zero Kama, check this one first.
image not
available
anymore
I usually don't accept records with black metal sounds as this isn't the genre we deal with. This exception is due to the fact that the other CD sent me by the label wasn't sounding like this one and second, fortunately this album doesn't sound like a classic black metal album. The one man band Swedish project Underjordiska uses some of the key elements of the genre as high frequency guitar sounds, hidden growling vocals, etc. The good thing is that the wall of sound created and the lacking of hyperactive drums make sound the seven tracks of DYSTERT VILSE like an extreme dark ambient album with painful vocals. Anyway, some ambient parts have been used on the final parts of "Isolation" and "Hope" as well as on the opening "Rainshine".
image not
available
anymore
Artist:
PROCER VENEFICUS
Title:
Saltwater & Glassmoon
Format:
CD
Label:
Stellar Auditorium
(@)
Rated:
Heading from Greece, Stellar Auditorium is a new label that sent me two of their latest releases. SALTWATER & GLASSMOON by Procer Veneficus is the second one and contains five movements of slow classical orchestra music played like there was a string session drowning under the sea. The music produced by Derek Schultz try to change a little the rules of dark ambient music by using more melodies but being true to the genre thanks to the sounds used that seem to be fluctuating between hisses, choirs and a general feeling of pain produced by the underwater effect. Three out of five tracks succeeded into keeping my attention alive but a couple of them made me want to skip them. This album is available as a limited edition of 300 CD-rs in a cardboard sleeve.