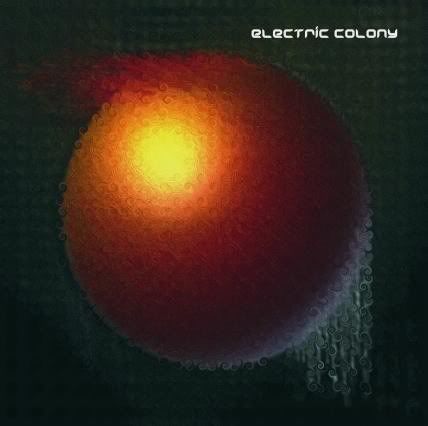 Artist:
Electric Colony
Title:
s/t
Format:
CD
Distributor:
Indie Pool
Rated:
Electric Colony is Kris Summers, a guitarist and composer based in Toronto, Canada. His self-titled debut CD is a very strong effort, and showcases his talents as a studio engineer alongside his inspired playing. The references listed in his press kit include Wire, New Order, and My Bloody Valentine, and I hear shades of all of these. There are also inklings of Curve, New Model Army and the Jesus and Mary Chain present here. The songs are mostly very heavy on rhythms, driven by deftly sequenced rapid-fire beats and beastly guitar riffs, though some tracks feature a more subdued approach. The only problem is that the vocals are sometimes overly processed or buried just a little too deeply in the mix. This is unfortunate, as Summers' voice sounds great on "Descent"/"Descent II," which are somewhat reminiscent of Joy Division, and later on "No Mercy Shown." Some tracks ride the line between industrial rock and heavy metal. "Hazmat" and "Ellipse" are both in this category, featuring high-powered, raging guitar riffs. The dirge-like vocals give them a somewhat more industrial feel, but the guitars would likely make Riki Rachtman smile. "Nearly There" is a very nicely constructed track that sounds very much like a New Order instrumental. This is a very fine start for Electric Colony – Mr. Summers has created a diverse array of sounds and styles that do justice to the artists that inspired him.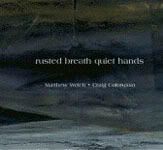 Artist:
Rusted Breath Quiet Hands
(@)
Title:
s/t
Format:
CDS (CD Single)
Label:
MUUD
(@)
Distributor:
MUUD
Rated:
Rusted Breath Quiet Hands is a collaborative effort featuring Brooklyn-based alto saxophonist/composer Matthew Welch (rusted breath) and New England's Craig Colorusso, a performance artist, dancer, sculptor, and guitarist (quiet hands). This self-titled CD – the second release on Colorusso's MUUD label – includes two lengthy, untitled tracks. The first track begins with the sinister sound of Colorusso's guitar coming to life as low moans are wrenches from its strings with a bow. This is soon accompanied by Welch, who improvises a series of long, sustained notes punctuated by the occasional melodic turn. The overall effect is somewhat reminiscent of bagpipes, with the powerful undertone of Colorusso's bowed guitar providing a steady, low-end hum to support Welch's higher, extended tones and chanter-like interludes. It's a very novel and innovative interplay between the two instruments. The second song reverts to a more traditional sound for each instrument. Welch's range on the alto really comes to the fore here, as he paints portraits of sound onto the wide open canvas of Colorusso's slowly repeated, gently articulated guitar arpeggios and harp-like strums. The sax calls gently at times and cries out loud at others, alternately hiding behind and leaping out in front of its companion guitar. This piece is lovely, and evokes the feeling of swinging slowly in a hammock on a warm summer morning. This is an impressive debut with a cleverly onomatopoetic, descriptive name that humbly sums up its components. This disc should appeal very much to fans of organic experimental music.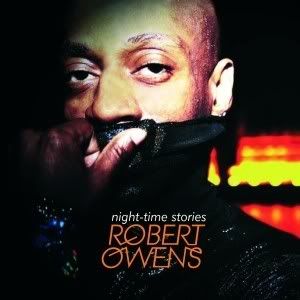 Artist:
Robert Owens
Title:
Night Time Stories
Format:
CD
Label:
Compost Records
(@)
Distributor:
Compost Records
Rated:
Robert Owens' "Night Time Stories" begins with an audio montage of voices intoning the artist's name, and stating "Who?" and "never heard of him." True, it has been over ten years since Owens' last full artist album, but anyone familiar with the Chicago house scene will surely know this talented vocalist, producer, and DJ. 1989's "Tears" remains one of the great house anthems of all time. For the uninitiated, this disc provides a solid taste of Owens' golden voice, which mixes gloriously with the upbeat, lush grooves laid down by Owens and an impressive cast of producers. Standout tracks are abundant, with the Jimpster-produced "Inside My World" giving the disc a quick liftoff into minimalist time-space, with a healthy infusion of silky and soulful vocals. "I'm Chained," produced by Ian Pooley, is deftly layered and designed to unleash one's dancing instincts. The pace of "Never Give Up" is slower than most other tracks on the disc, but the inspiring message and driving beat make this Charles Webster-produced tune one of the more striking efforts. The crown jewel, though, is "Merging" – a nine and a half minute anthem, produced by TJ Kong & Nuno Dos Santos. Hypnotic and powerful, this cut will no doubt return Owens to his rightful place at the forefront of the contemporary house music scene. "Listen," encourages the outro track... "it's all about the music!"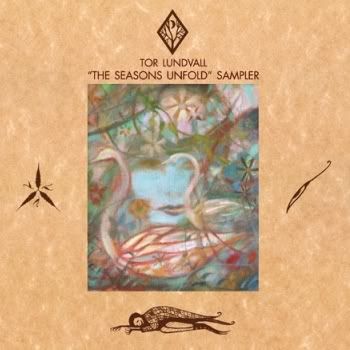 Artist:
Tor Lundvall
(@)
Title:
"The Seasons Unfold" Sampler
Format:
CD EP
Label:
Strange Fortune
(@)
Distributor:
Strange Fortune
Rated:
This four-track teaser presents alternate versions of songs from the upcoming 4-CD box set entitled "The Seasons Unfold." The selections on this sample are rich, contemplative pieces that offer a glimpse into Lundvall's benevolently haunted world. His "ghost ambient" style is only slightly somber and not the least bit frightening. On the contrary, these songs are very mellow and comforting. Whir (Mix #2)' is a short, lovely instrumental featuring gentle piano riffs dancing within a slowly swirling thicket of fuzzy, cascading tones. The second track is an alternate version of "29," with softly intoned vocals and tolling bells that beautifully augment the slowly unfolding melody. "The Backyard" is slightly more upbeat than the others, with a dirge-like verses sharing time with a repeated musical refrain. Another instrumental, "November's Fields," closes out this track with a delicately isolationist touch. This sampler is remarkably gripping, considering its brevity (just over 15 minutes), and yet Strange Fortune is literally giving it away – while supplies last, you can request a free copy with any order you place on their website! I'll be anxiously awaiting the release of the box set.

Artist:
MIKE BROWNINGS INNER WORKINGS
Title:
Trancemissions
Format:
CD
Label:
Pharmafabrik
(@)
Rated:
Mike Browning is a well known name into the death metal scene as he played with bands of the likes of Morbid Angel, Nocturnus, Incubus, Acheron and in his latest one: After Death. Inner Workings is his first solo keyboard project (he uses a Korg Poly61 and a Yamaha SY22) which took life in 2004. The four tracks of TRANCEMISSIONS born from different improvisation sessions and have no overdubs. Mike felt like a voice inside his head who told him to plug his keyboards to the Fostex multi-track recorder and then he started to play like on trance. That strange feeling forced him to do so other three times and this is how these four "alien soundscapes" born. Mike felt like he was channeling an unknown "force" and he decided to let it take the lead. If you listen to "Inner workings", "The edge of the universe", "The weeping of the angels" and "The swirling abyss" you realize that something was really going on and the particular Scott Clark panels you find on the outer and inner cover of the CD help giving to the album an occult atmosphere. Prepare yourself for fifty minutes of synth sounds with no drums and full of obscure moments.