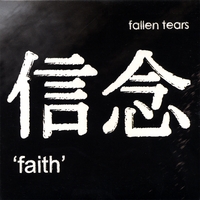 Artist:
FALLEN TEARS
(@)
Title:
Faith
Format:
CD
Rated:
BUY from
Coming from Liguria, Italy, Fallen Tears born in 1999 and since then produced only one album titled "The drowned world". Formed by Giorgio Bormida (already active in the 90's with Sense and FEM), Elio Isaia and Jean Paul Braghin (he's also active as Architect's Eye, an industrial project which released two albums for Darkcell Decline label) the band is distributing their latest album titled FAITH. The album is a sort of hazard the band wanted to pursue because if the title recalled you the third The Cure album, well, you guessed it right, because the Fallen Tears' second album is their version of that album. The band knew that it was impossible to re-create the same atmospheres and they could had died by The Cure's fans hands into the attempt. Fortunately their covered it without being true to the original album but being true to the sound of the bands of that period. So, "The holy hour", "Primary", "Other voices", etc. have being recorded like they were covered by bands such as My Bloody Valentine, The Jesus And Mary Chain, etc but keeping always in mind the band's personality. I listened to this CD four times before talking about it because it is a risk to tell to people if it is a good album or not and I must admit that it is. The trio did a good work into giving their version of those tracks without trying being clones or without sounding ridiculous. Good atmospheres and good arrangements (with the cool use of some electronics) are doing the rest. It is available through CD Baby for 11$ and there you can check the first three tracks. P.s. There's also a brief original track after 40 minutes of silence but it sounds like a dark atmospheric ambient outro and it isn't indicative of the original songwriting skills of the band...
Artist:
DREAM DISCO
Title:
In Your Eyes
Format:
12"
Label:
Das Drehmoment Records
(@)
Distributor:
Neuton
Rated:
Coming from Milan, DJ Overdose already released some tracks on Viewlexx and Das Drehmoment and now with the limited edition (200 copies only) of IN YOUR EYES he's bringing to the attention of electro lovers two beautiful tunes and a remixed version of the main title. "In your eyes" is a charming italo disco song where '80s retro sounds and moods find their natural output thanks to a male/female duet. A song that deserve to become a classic. "I hope" doesn't leaves the electro danceable style of the opening track but thanks to its melancholic melodies it changes totally the atmosphere. "In your eyes" remix is a little darker respect the original version, it is nice but doesn't add new elements. Anyway, this is a hell of a record and if you are into the genre it is a must have!
Artist:
Must Have Been Tokyo
(@)
Title:
Insects Ep
Format:
CD EP
Distributor:
mhbT
Rated:
Must Have Been Tokyo is band hailing from Lucerne-Switzerland, and the "Insects" ep collects songs written beetween 2003 and 2006. It sounds great and basically in all the 8 tracks the rhythm guitar and percussions curl around minimal postpunk basslines - less is more following Gang Of Four's shaolin. There are compelling hybrids like the track "Aah" which has some fearless eurowave analogue synths embedded into an all-English postpunk tune - possibly my favourite here and surely a killer track when played live. In seeking a way forward with Wave and Postpunk, mhbT have come up with something both bizzarre and danceable. They say "dance music for people who can't dance", but even "dance music for rainy days" would fit nicely. Contact the band through their website or myspace for a copy of the ep.


image not
available
anymore
Artist:
Mind.In.A.Box
Title:
Crossroads
Format:
CD
Label:
Dependent / Metropolis-Records
(@)
Distributor:
Alive
Rated:
Yeah, it has taken weeks until I found the right entrance to the multi-layered sound outfit of Austria's best Electro/Industrial artist. A MIAB-release isn't that kind of music to bring on some background noise while doing the dishes – this music needs and deserves attention. "Crossroads" is once again a hard-to-figure-out journey for the short-haired 4/4-on-the-floor addicts, since it integrates influences taken out of different music styles. This, of course, is the trademark and for sure one winning point for MIAB. Like on both predecessors, "Crossroads" offers Electro, Techno-impressions, mixes sonic synth-layers with at times effected, at times high-pitched, and at times natural sounding male vocals. Their style can be surely called authentic, and even if this duo has never entered any stages to perform their stuff live, their encouragement is still unbroken. Tracks "Amnesia", "Identity" or "Stalkers" can be compared with the last years' SI-CD release "Certainty" with danceable, nearly Futurepop-inspired textures, straight arranged but with special and at times nonlinear percussion elements. And for magically pieces like "Fear" I tend to travel to our dear German pope to speak this Austrians holy – although extremely high pitched, it is the male voice of vocalist Markus Hadwiger which offers the catchy moments on this track – a refrain to sing along the lines, while still extremely tasteful arranged. Another musically outstanding track has to be named with "The Place" with some introducing piano sounds, vanished rhythms and a very layered outfit. Make also sure not to forget the last track here, "Run For Your Life" featuring some fine orchestral sound extracts. MIND.IN.A.BOX somehow personify the ideal of the German Dependent-label – not always on the hunt to sign and to release the easiest and trendiest kind of music, but to have some open ears and minds for the real innovation, even if this ends in a loss. MIAB may are sort of this game, although I still haven't given up the hope, that more people do use their ears and listen. Not to forget the tasteful dark cover art featuring a short story written by A. Gruber, www.agruber.com , and a code number to get entrance to a secret area on the bands' website where you can download some more tracks and goodies.
Artist:
Provision
(@)
Title:
The Consequence
Format:
CD
Label:
Section 44
(@)
Distributor:
A Different Drum
Rated:
Although we had already a review of this release several months before, and this album surely can't be named new at all, please spend a bit attention and note that this is the officially last release of this well-known Houston-based Synth-/Futurepop quartet – at least until further notice. Just a few days before band-leader Breye Kiser, who's also a building member of the label Section 44, has officially called its quit, as sad as this is. To find reasons and explanations for the end of this band I rather like to explain Breye himself in an upcoming interview here on our pages soon. Nevertheless I guess that too much changes of the band membership have to named as a possible reason, that Breye at least got tired to search for additional new musicians, which can bring on talent as well as the right behavior to join this act. Musically PROVISION follow a classically arranged form of Electro-/Futurepop related to some early NO COMMENT, MATRIX or some acts out of the Memento Materia roster. Their appreciated floor fillers are available here with "Ideal", "Someone Like You", "The Only Thing" or "Perversions Of Conceptual Warfare", but the rather calm and catchy highlight lays on the ballad "Fade" – this track with its slight depressive mood should appeal every Synthpop music fan. Let's finally hope that "The Consequence" at least won't be the final release for this act and that they can find the concentration for farewell release. Some plans like a DVD release are still in the pipeline.