image not
available
anymore
Artist:
ORGAN EYE
Title:
Organ Eye
Format:
CD
Label:
Staubgold
(@)
Distributor:
Wide Records
Rated:
Born in 2005 from the people involved with Osso Exotico and Minit because of a live concert, Organ Eye found their definitive organic with the successive help of Patricia Machás (also a member of Osso Exotico). Their first homonymous album contains two long untitled experimental suites which seem composed in trance. This "brain music" ideally link the experimental field with Krautrock thanks to the lysergic approach to sounds. The suites form an unique mutating work of the length of 45 minutes which like a snake who changes his skin, slowly crawls between the sounds. On the background the organ loops create a sort of liquid background while casual beaten objects duet with feedbacks. The tension and the noise level increase and when the organ become the main sound it seems agonizing, spreading its sound like blood. The second suite is based on the same approach but the sounds change a little (there are more bass sounds and the organ remember me the 70's improvisations). I appreciated the attitude but I wasn't that much on the same frequency...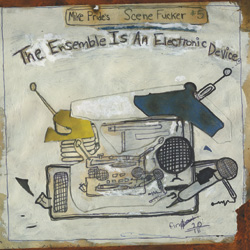 Artist:
MIKE MPRIDE
Title:
The Ensemble Is An Electric Device
Format:
CD
Label:
Public Eyesore
(@)
Rated:
Right after having reviewed The Mighty Vitamins, here's another boundless freak commando dealing with free-form improvised music. It looks like Public Eyesore is firmly headed in this musical direction or at least that's the impression after a couple of releases I've heard recently, but never take anything for granted with them. Like Mighty Vitamins Mike Pride and his band have this old fashioned sound and like the afore mentioned band the live recording helps a lot to make it all vintage but the final result is considerably diverse. "The Ensemble Is An Electric Device" is much more focussed on electro-acoustic music but not "neat" like Civil War, AMM or Gruppo Di Nuova Consonanza: it's much more jazzy and certainly more intentionally chaotic. Mike Pride is a percussionist and like many other percussionists leading a band (think to Gino Robair for example) he gives a strong "percussive" and "noisy" intonation to the CD. It's weird how the Viola of Jessica Pavone and somewhere else the lap-steel guitar of Gerald Menke in by some means keep the whole structure together while saxophones conspire to make it sink in dissonance. Contrary to what you may think, while Mike pride free-percussionism/drumming here and there speaks loud, in other portions of this work he's playing is nearly "silent". Even if what I'm gonna write may appear a nonsense I've the idea Pride's ensemble improvise with a well-built american "inflection" that is somehow different from the sometimes "cold" hyper intellectual improvisational attitude of european musicians (and even if somebody thinks that's an heresy I think it has to do with the afro-american root of U.S. modern music). Last and most important: the whole work is packed in in a single track lasting for more than 34 minutes, the idea of the song never loses its integrity but at the same time you have ups and downs like in the ninety per cent of impros. This listening could be "unorganised/free-form" (which is far from meaning chaotic) an physical if compared to those recordings on Creative Sources but that if you're into free-form music and into impro you should give them a try .


Artist:
AUTOPSIA
(@)
Title:
The Berlin Requiem
Format:
CD
Label:
Old Europa Cafe
(@)
Distributor:
Audioglobe
Rated:
It's ten years that Autopsia weren't releasing an album with new tracks. In 2002 and 2005 they released "Colonia" for Staalplaat and "Le Chant De La Nuit" for their own Illuminating Technologies (see the review I did back then) but they were both compilations. THE BERLIN REQUIEM, instead, contains six new tracks composed by Autopsia and Dammerung Orchestra (we already see them on the "Kristallmacht" album, released by Hypnobeat on 1993) which ideally blend the style of the band of those days with their characteristic classical recordings of the beginnings. In this way we have long dissonant piano orchestral suites and piano orchestral suites with electronic arrangements (like on "Funeral music III"). The only exception is the sixth and final track "Sounds for remembering death" which is a ten minutes track made of hissing sounds, distant choirs and a final part with organ and piano. The effect created by the whole CD is of despair and we could call it classical isolationism. THE BERLIN REQUIEM is taking inspiration from Bertold Brecht poem of the same name. Here it is:

Give praise to the night and darkness that close in around you.
Crowd together and look up at the sky,
and see that the days has already slipped away from you.

Give praise from the bottom of your heart that heaven has a bad memory
and no longer knows either your names or your faces,
and that nobody knows that you are still around

Praise the grass and the beasts that live and die beside you.
See how they, too live and, like you, must also die.

Give praise for the cold, the darkness and corruption.
Look up: you do not matter and you can die without worrying about a thing.
image not
available
anymore
Artist:
CAUSTIC (@)
Title:
Booze Up And Riot
Format:
CD
Label:
Crunch Pod Media
(@)
Distributor:
Metropolis Mailorder
Rated:
"CAUSTIC is me, Matt Fanale, so it's actually all my bitch-ass fault." Yes, Matt DJ "Eurotic" Fanale is indeed a real sweetheart – but rather more for his label Crunch Pod Media for which he can be seen as the currently best-selling artist since his last years' debut release. "Unicorns, Kittens, and Shit" could enter the Metropolis mail order Top 10 charts for some weeks – a not expected success for sure and meanwhile this debut seems to be sold-out. Lately Matt could also invade a free slot on the renowned "Septic" compilation series of the German Dependent label – right in time to take part on the 7th and last issue, since this label will close its doors in a few months. But another and important move for him to earn more recognition in Europe. Harsh electronic-driven Powernoise sounds with bombastic rhythmically efforts infiltrated with a raging Punk-like anarchic behavior – Matt's musically output is surely not designed for the faint-hearted audience. Thanks to his nationwide work as a DJ and also to his aggressive live performances with global players like KMFDM, COMBICHRIST or TERRORFAKT the train of victory seems to continue on a constant level. "Booze Up And Riot" doesn't take prisoners and spreads another immense reign of irony out of every track. "We make music to piss you off", the slogan of the Crunch Pod Media label fits on CAUSTIC like with no other else act of the label roster. It's all about irony and the "we-take-our-business-seriously-behavior" which counts not only for the Electro/Industrial scene – it also seems to count for Matt's daily life and the people around him. The CD starts "nice" with a sort of introducing rant done by Jared Louche of CHEM LAB aptly entitled "Another Fist in The Ass" (wow, delicious, Matt... aah, and I like you too, you're for real;-)). It follows the title track, which is one of the very few pieces featuring real screaming vocals instead of using monotonous voice samples - it's a speedy and angry-driven harsh effort. The price for the most strangest song title he will also win for "The Reason I Broke Up With You Is A Million You Psychotic Wang". But at least and if I try to accept and compare his musically efforts with the last glorious releases of his label comrades ENDIF or CERVELLO ELETTRONICO, which each brought out stellar releases – then Matt fails to reach their throne. He surely will reach much more recognition and better sales for sure, so he will easily accept this slight point of criticism. You'll have to hurry up to pick up an exemplar of the limited 2CD edition of "Booze Up & Riot/The Binge Edition" until also this item will be totally sold-out. Life's a party, so... BOOZE UP AND RIOT!!!

image not
available
anymore
Artist:
I/O
Title:
Polytone
Format:
CD
Label:
Fratto9 under the Sky/Ebria
Rated:
Sophomore full-length for the Italian quartet formed by Luca Mauri (guitar), Paolo Romano (double bass), Paolo Benzoni (drums) and Andrea Reali (voice and electronics), recorded in December 2005 and mastered by renowned soundmaker Giuseppe Ielasi. As expected, I/O have maintained their minimalistic formula, both in the layout (this time it's mostly white) and in their sound, self-defined "minimalistic rhythmic improvisation". However, my impression is that this work is slightly more focused, "rockish" and "regular" than their debut, but I admit I haven't gone back to their self-titled cd lately. The semi-structured, controlled improvisation of the quartet still mashes shards of funk, jazz, art rock and vocal experimentation (Reali's voice must be counted as an instrument per se), sometimes sounding like a curious bridge between '70's and today's avant music. The lesson of Starfuckers ("Infinitive Session"-era)/Sinistri is still the best possible comparison, if coupled with more retro-sounding jazz rock (Universal Congress Of?). Tracks that have made yours truly shiver: n. 6, with funky lines and a double bass line running in circles; and n. 8, with its desertic guitar lines and tribal drumming. Still, I don't think that this work can come close to the pleasure of seeing them live, where their creative energy is truly released, but that's the deal with improvisation-based material. Should they manage to really let loose the beast, they would become a HUGE band.