Artist:
HUE
Title:
Un'estate senza pioggia
Format:
CD
Label:
Grey Sparkle/Tra Zero e Uno
Rated:
As usual, reviewing music by friends of yours is not always easy, even more so when you have also played with them - and with Matteo Uggeri/Hue I have shared a release I'm very fond of. But well. I think this is the first full-length release where Hue doesn't use his usual alias Sparkle in Grey, which makes sense: while SiG is an electronic-based project (be it IDM, ambient or electroacoustics), this disc (the title means "A summer without rain") is mainly based on concrete recordings, found sounds and real time performances, courtesy of a bunch of friends (Davide Vallecchi/aal, Andrea Marutti/Amon-Never Know, Giuseppe Verticchio/Nimh, Nefelheim...). The whole thing started in 2003, when during his summer holidays Hue picked up every kind of sound with a minidisc (voices, cicadas, church chants, pebbles, rain...) and played with the above mentioned mates; one year later, he met Davide Vallecchi again and added more field recordings and guitars. Everything was eventually assembled in seven tracks, clocking in at one hour, featuring several sub-divisions or movements. Despite the following work of editing and mixing, which must have been very careful, the whole work has maintained a free-flowing, fragmentary feel. You can hear Hue talking with other people, or walking, or jamming - a kind of diary or polaroid collection. The strictly musical part is quite limited, with a predominance of Vallecchi's melancholic guitars, which have a sort of wave feel to them, perfectly merging with the atmosphere of the cd. Which is one of nostalgic recollection, of letting yourself go or just flow with the environment (sounds a little summer-of-love, doesn't it). It's a work with many details and shades which will appeal to those who like the more humane part of field-recordings based compositions. Due to its very fragmentary nature, it honestly fails to really grasp my attention after its first half or so, but I'm a very tired listener at the moment. I'm sure some more spinning would do this justice.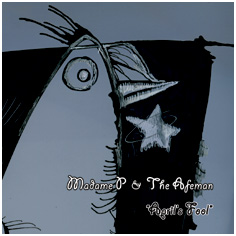 Great layout and weird collaboration for this 3"mcd which puts back on the map both Andrea Marutti (head chief of Afe records, but also musician mainly known as Amon/Never Known) and Madame P. I think unusual it's the only comment that really make sense given that Marutti is quite far from his usual ambient-dronical-electronic environment and Madame P is not singing and that's been her usual occupation so far. Despite the title "April's fool" sounds much more cold and serious than you could expect from such a layout. Let's say this' an electroacoustic/concrete-electronic release where synths and laptop dissimulate the natural noises made out of contact microphones, glass and objects. A short collection of four episodes of playful improvisation reworked and redefined by the hand of both. The end result is sometimes sharp and simple, an audio blast like some primitive electronic-industrial experimentalists in the way it was back in the early eighties. Fans are warned it's a limited edition, non-aficionados should keep in mind the average material of these two musicians is really different.


Artist:
TYSKE LUDDER
Title:
"Bombt die morden?" + "Dalmanrock" + "Creutzfeld"
Format:
CD
Label:
Black Rain
(@)
Rated:
Tyske Ludder originally formed on early 90s in Germany. On those years the influence of the Berlin wall (it was destroyed on 1989) was still vivid and the band on their side decided to deal with themes such as the war in ex-Yougoslavia on their first album BOMBT DIE MORDER?, with human deficiency on their second DALMARNOCK and other social disgraces on their final E.P. CREUTZFELD. As many early industrial e.b.m. bands Tyske Ludder sound was granitic and based on rhythm. For them e.b.m. was really meaning body music: music that make you sweat and that is useful to manifest your anger. Listening to all this amount of tracks (50 in total) based on a "in your face" effect is difficult to understand if Tyske Ludder reissues were indispensable but if the first BOMBT DIE MORDER? Is based more on an industrial approach, with DALMARNOCK industrial influences leave the space for more electronics showing a new face for the band's music. Also melody finds its place on the band's sound and this is evident on tracks like "Freier fall" or "Stadium des zerfalls". On CREUTZFELD the sound changed slightly and the band did a sort of mix of the first two styles and added also a guitar on some tracks creating a new way of making e.b.m. At this point you start to understand that they weren't only based on aggression without a cause and you appreciate more these new versions. This three disc reissue don't contains uniquely the tracks of the original releases but contains also a whole bunch of remixes thanks to bands like Ctrl-Alt-Del, Vigilante, Plastic Noise Experience, Brain Leisure, CriadCrias, Asseptic Room, Vicious Alliance, Wertstahl, Xp8 and FabrikC just to name few. The remixes ideally built a sort of bridge from the origin of industrial e.b.m. and the modern way of creating pulsating noise. Is it only a coincidence if these records have been reissued on the same moment of the Nitzer Ebb compilation? I don't think so...
Artist:
Sol Invictus
(@)
Title:
Sol Veritas Lux
Format:
CD
Label:
Tursa
(@)
Distributor:
Strange Fortune
Rated:
I've had this disc in my collection for over a decade now and I didn't know that it had been reissued. Although it has been pushed aside by other Sol Invictus discs like "King and Queen," "Let Us Prey" (which has live versions of some of the tracks from "Sol Veritas Lux") and others in the more cleaned up apocalyptic folk style, this disc is still one that gets rotation in my CD player. It's hard to believe that this album is almost 20 years old. Like much of the early stuff from the usual suspects of the World Serpent / People Who Can't stable, this is raw and unrefined and kind of jarring if you are only familiar with their later work. Sort of like how Death in June's "Nada!" doesn't quite fit with "Something is Coming." But it's nice to shift gears at times and listen to tracks like "Against the Modern World," and the heavy chants of "Wolf-Age, Axe-Age." The disc has gotten a lot of attention, and rightfully so.

Up until now, I have been preaching to the converted. For those unfamiliar with Sol Invictus, the music is a patchwork of Nordic / Pagan / runic imagery. The music is also thick with reminders of ancient Europe and suspicion of progress and modernity. If you need some comparisons, Fire + Ice, Current 93 (Thunder Perfect Mind, Of Ruine or Some Blazing Starre), In Gowan Ring, Death in June (What Ends When the Symbols Shatter). Even so, there is a rawness and sense of melancholy not found in any of these comparisons. This is medieval ballad music with an edge. The music is stripped down, with a heavy reliance on the heavy bass presence of Karl Blake. At some times, the song structure is almost a traditional rock song (for example, "Long Live Death" and "Somewhere in Europe"), but mostly sticks with the ballad style ("A Ship is Burning"). Some are a bit strange, such as "Untitled," which is kind of dark and oppressive with spoken word, and "Wolf-Age, Axe-Age," which incorporates chanting and stripped down bass line. Once we get to the "In the Jaws of the Serpent" portion of the disc, the music is even more stripped down. These tracks were performed live. Despite the rough quality of the music, some of the tracks seem to shine in this environment. For example, "Raven Chorus" is much stronger live than in the studio.

This reissue has some unlabeled bonus tracks (different versions of "Angels Fall," "Against the Modern World," and "Summer Ends") which is a nice touch. The updated booklet is a nice touch as well, with more photos and lyrics for the live tracks (the original only has lyrics for the studio tracks. I compared the original to the remastered version and the remastering is most noticeable in the live tracks, but overall a lot cleaner. Overall, this is a good place to start if you haven't checked out Sol Invictus. This is an album that has stood the test of time.

Artist:
Fe-Mail
(@)
Title:
Voluptuous Vultures
Format:
CD
Label:
PsychForm Records
(@)
Rated:
Somehow I ended up with the vinyl version of Syklubb fra Hælvete a few years ago, probably in trade for something. I remember wondering if it was for real – after all, female noise musicians are pretty rare. Turns out that it was for real and it was pretty good. Fe-Mail is a Norwegian noise duo consisting of Maja Ratkje and Hild Sofie Tafjord. Their website describes their music as "electronic music based on improvisation with live sampling as well as recordings of their own generated sounds and field recordings, however always with focus on their main instruments which are voice (Maja) and French horn (Hild)."

This album is pretty good harsh noise, but noisy in a way that soothes you before beating you with a tire iron. The first track on the disc, "Valkyrie Procession," begins with some low rumbling noise that slowly incorporated higher pitched feedback sounds before coming in full force halfway through with more distorted low end rumblings and voice (Sorry, I don't speak Norwegian, so I have no idea what she is saying). A nice way to slowly acclimate the listener to the noise that comes later. The next track, "Artbeak," follows a similar trajectory, with the noise slowly fading in, mixed with vocal loops and staccato noises, and high pitched squalls. At some points, the track seems more an exercise in repetition with the loops, but just when it starts to get tiresome, it changes. Even so, for the most part, this one is far more varied than the previous track. At 3:06, Dunlin Dance is the shortest track on the disc and seems a bit out of place in relation to the previous two tracks. I would describe this as whimsical noiseas if a toy store had created the track. Interesting. The final track, "Voluptuous Vultures," begins very minimalist, with noises interspersed with silence. They continue the whimsical noise of the previous track, incorporating horns, applause, and other noises. At times, this track becomes a bit too repetitive for my tastes. It never really unloads until about 10 minutes in, when the track is nearing completion. Even then, it never reaches the intensity of the first two tracks. Overall, this is a good disc of noise, for those looking for a bit of variety.