Artist:
Project Blue
Title:
Duality
Format:
Download Only (MP3 only)
Label:
Urbcom
(@)
Distributor:
Rough Trade
Rated:
This is a newcomer project hailing out of Denmark and newly signed to the British Urbcom label. Martin Host is the sole brainchild behind PROJECT BLUE and he provides a first EP featuring 4 tracks. Musically his efforts are based into the wide field between Futurepop and harder EBM. The first 2 tracks "Pressure" and "Loveslave" are straight-forward moving tunes to keep the masses in motion. "Loveslave" also comes out quite rough through some overdrive effect manipulation on the repetitive bass lines, which provides a hypnotic impression. As for constructive criticism, both tracks aren't high-end compositions and extracting their power and message only out of some repetitive shouts – well, Martin can do better. Both further tracks "Embrace" and Breakdown" are rather smooth oriented, but show his convincing programming abilities and are of course better and more in-depth compositions. Martin's voice performance suits perfectly with this style of music and has still enough potential to sound unique into this overfilled genre. Hard to judge completely on Martin and his project after only 4 tracks, but let's hope, that he can return soon with a full-length album.
Artist:
Jérôme Chassagnard
Title:
(F)light
Format:
CD
Label:
Hymen Records
(@)
Distributor:
DSBP
Rated:
Since there hasn't been too much activities with Jérôme's main music project AB OVO, he has decided to record a solo album, featuring a lot of influences taken out of his private preferences. "(F)light" is definitely a lighter music outfit than AB OVO and he produces a sort of intelligent Electronica sharing more on Dub and Breakbeat elements instead to fall into a noisy kind. Several tracks a beat-driven pieces which would allow some dancefloor movement like "Hazy", "Alternate Reality" or "Resonance", but the preferences are rather based on the moody tracks offering some strange ambience. "A Short Story About..." can be named as being a highlight here, although the chosen sounds remind strong on a thinkable Electronica-sequel to DEPECHE MODE's "Oberkorn (It's A Small Town)". Thumbs up also for the atmospheric outro tune "Light" with its melodic touch and mysterious samples thrown in. "The Fan" surprises with a guest vocalist appearance by Guillaume Eluerd, while "Circle Of Memories" features a musically collaboration with the German one-man act FLAGUE. The most weird sounding track has to be named with "Snowflake" which is drive by a repetitive acoustic guitar-riff and various voice samples. And as seldom as this happens, I totally agree on a sentence taken out of the release info sheet: "this album holds a perfect balance between beat and drift". So it is, highly recommendable.


image not
available
anymore
Artist:
Glenn Love
(@)
Title:
Cryptesthesia
Format:
CD
Label:
Sonic-X / Danse Macabre label group
(@)
Distributor:
Alive
Rated:
The connection between the Canadian DJ and Electro/Industrial artist GLENN LOVE and the German Sonic-X label seems to be a constant one, since after his now more than 2 years olf predecessor "Belle Epoque", he releases a new studio work. After having toured intensely through Europe and America and with the grown impressions taken out of all foreign areas in the past years, GLENN now offers with "Cryptesthesia" an album turning musically more directly forward to EBM and Dark Electro music. The tracks have definitely received more speed and - surprise, surprise - contrary to his past album, he now has decided to sing. More than this, he also has learned German in the past and some first tunes with lyrics in this language are featured too ("Sagt Mir Wo" or "Schnee Von Gestern"). GLENN uses a lot of different FX manipulations on his dark sounding voice, although I tend to say, that he hasn't found an ideal kind of procession so far – the vocals are the weak part in his general sound outfit and do still need some polishing. Best tracks can be named with the title track, the already mentioned "Sagt Mir Wo" and "Hang On", since they all should be able to keep the fans stomping. Not that bad work, and even more recommendable, since GLENN avoids it to jump on the already passed Hellectro-train. A bit more polishing work here and there and GLENN starts an assault against the throne of the genre.
Artist:
VV.AA.
Title:
12. Elektrisch Festival
Format:
CD
Label:
Black Rain
(@)
Rated:
Recorded live at the 12th edition of the Elektrisch Festival, this album offers to fans of classic e.b.m. sounds (the one that gathers melody, power, rhythm and sweat) extracts of seven great band's performances recorded at that event. The album presents two tracks for each band and I was quite surprised to see Birmingham 6 back on track. The last time I reviewed one of their releases was about eleven years ago. The track list opens with Absolute Body Control (don't miss the second reissue of their "Lost/Found" double album made by Daft Records and distributed by Ant-Zen!) with "So hard" and "Give me your hands", two tracks coming, in this version, from their "Wind[Re]Wind" album. Tyske Ludder are the next ones and, boy, they know how to make this kind of sounds! They are here with "Wie Der Stahl Gehärtet Wurde" and "Khaled Aker". Birmingham 6 present "Godlike (prayer)" and their classic "You cannot walk here". After these three the next four bands were kinda unknown to me and I have to admit that I've been really impressed by Swedish Container 90 and I was also surprised to listen to Hungarian Escalator and to know that they are active since late 80's. Also the newcomers Astma impressed me with their "Telephon terror" and "449 metal bullets". They have a bit of D.A.F. approach to rhythms and I liked it. Last but not least we have Pinsel Liest! with "Das Hat' Se Jesagt" and "Hör Oss Svea". The first tracks is a particular e.b.m. spoken word while the second one is a creepy atmospheric one. If you love the genre don't miss this great live compilation... it is limited to 500 copies only!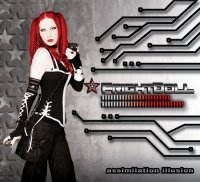 Artist:
FRIGTHDOLL
(@)
Title:
ASSIMILATION ILLUSION
Format:
CD
Label:
Quantum Release Records
(@)
Rated:
After the nice debut album "Reference Version", Frigthdoll is back with eleven new tracks. ASSIMILATION ILLUSION brings to the fans of e.b.m. electronic sounds good dark dancey atmospheres with an edge plus some surprises as Frightdoll reveals on the opening "Lost" and on "Distant" her romantic side: if the opening is a piano/vocals tune with a melancholic touch and nice strings arrangement, "Distant" mixes upbeat tempos, piano, electronic distortions coupled with a bit of melancholic atmospheres. The following tune, "Leaving you" is also a nice one which sounds more powerful compared to the the previous e.b.m. tracks I listened. It is more convincing and catchy even if it deals always with the same elements. Maybe she composed it thinking about its dance potential. Also "Generate" sounds more convinced/convincing, so I don't know why she chose to include the tracks from 2 to 6 which are sounding to me less personal as the sound structure doesn't offer innovative keys as some other songs succeed in that. The album closes with "Endings" and "Sweet serenity", other two particular slow tracks. The first one is kinda melancholic while the latter one is more creepy. It seems sung by a devilish girls while a piano plays a dissonant tune and this is what I mean with "personal"!