image not
available
anymore
Artist:
QUARTERSIZED
Title:
Party Political
Format:
MCD (Mini CD)
Label:
MOMT
Rated:
The fourth CD-r/digital download E.P. by Quartesized is focused on the UK General Election (which were coinciding when he released it). The four tracks ideally are the most political ones he released because the opening "Known unknowns" and "Dub nation" have samples from the Donald Rumsfold's famous War on Terror speech (where he tries to play with words to convince people that war was right but the effect was hilarious) and from food critic and film maker Michael Winner (his speech is focused on banks that created the current crisis). The other two tracks "Kinder funk" and "Two fear parties" are focused on kid parties, when everything seemed so simple, for the first and to adult parties, when everything seems so hollow and you are forced to have fun. This time, musically, Ian opted for tracks rhythmically less aggressive (only the opening "Known unknowns" has a grime touch) but always influenced by dub and electronic extravaganza. Always interesting to check...
Artist:
KMFDM
Title:
Krieg
Format:
CD
Label:
KMFDM records
(@)
Distributor:
KMFDM Store
Rated:
KMFDM is the Fugazi of electro/industrial music but even more intense and persistent: they've been at it relentlessly since the '80es, they stand the test of time, nothing can stop them, they are totally D.I.Y. and they continue to make records to this day. KMFDM the band today is backed by KMFDM Records and is distributed online by their KMFDM store!
If you were unable to keep up with Sascha Konietzko's revolving band of misfits, the line up currently consists of the man himself, Lucia Cifarelli on vocals, Jules Hodgson on guitar/bass/keys, Steve White on guitar and Andy Selway on drums (and let's not forget Brute!'s original artworks which punctuates every KMFDM release!). However in this case the names that matter the most are not those of the band members. "Krieg" is a remix album with tracks from their album "Blitz" (yes that is a throw back to 1993's Excessive Force's single "Blitzkrieg") and it features remixes by current and former members of NIN, White Zombie, Danzig, Static-X, Ministry, Skinny Puppy, Prong, Combichrist, Apollo 440, Tweaker, Icon of Coil, Pop Will Eat Itself, Die Warzau, Gaye Bykers on Acid, Stabbing Westward, Zombie Girl, Jacklope, Vile Evils, Melt, Healer, Revolve, Seismologist, Girder, Assemblage 23 and of course past and present members of KMFDM... You might have expected the usual suspects that had done 2006's "Ruck Zuck" remixes, but the approach on this one was different. This one reads like a who's who of the electro-industrial-metal scene and did you really doubt that?
If you are a KMFDM fan you can't miss out on this because listening to other people's re-interpretations of the band's music is a treat for everyone who knows the originals. However, even if you are not a die hard KMFDM fan or you simply didn't keep up with the band's output and you don't know the "Blitz" record, "Krieg" is a great record that can stand on its own two legs and even throw some hard punches. It's always great to listen to a remix album and recognize the signature sound of the remixers, and this is one of those cases, where you can really hear the remixers personality peak through.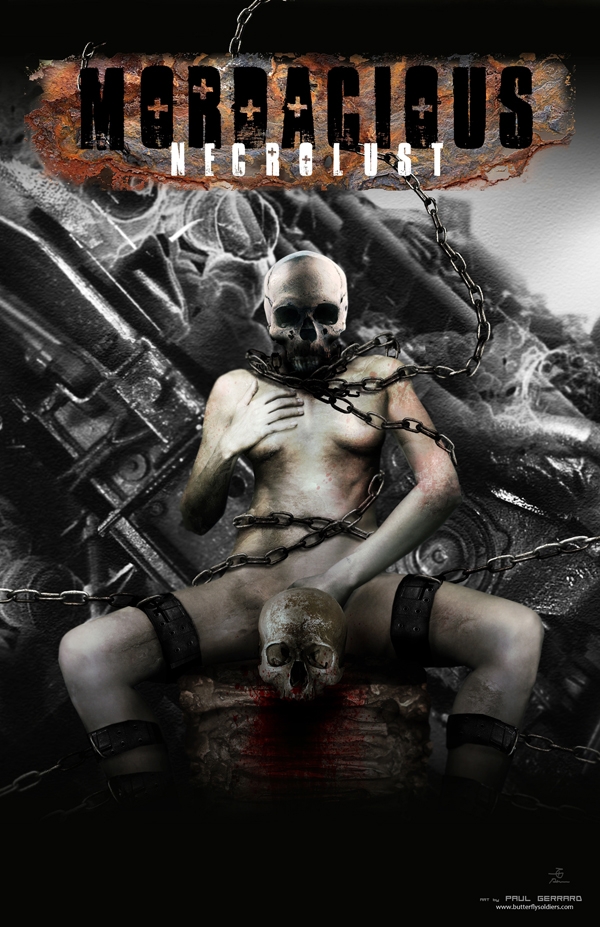 Artist:
MORDACIOUS
(@)
Title:
Necrolust
Format:
CD
Label:
self-released
Distributor:
DSBP
Rated:
After his previous two albums, "This Emptiness" and "Torture Tactics", both brought out by the Telegrammetry/Hypervoxx label, this official third album of MORDACIOUS was intended to get released under the flag of the Arkansas-based BLC Productions label. But unfortunately the responsible people behind BLC had to declare to take a longer pause until further notice - maybe with a totally stop of all further activities in mind. "Necrolust" was nearly completed, so Mordacious Mortem had to do a hard decision - either searching instantly for a new label, or to release this album completely on his own. As you can see, he has decided to rely completely on his own, while still implementing some rather BLC-reminding elements into the whole production. There is to name the stunning artwork created by the latest BLC-artwork artist Paul Gerrard (www.butterflysoldiers.com), who couldn't express the content of the album including the disreputable title any better. Talking on the music, MORDACIOUS continues his already discovered path by producing a relatively straight and rather European-inspired form of Harsh EBM/Hellectro, while an equipment-update and a more matured sound-design can be noticed too. Not to much surprises he holds up here, but that may wasn't to expect. Both compilation-approved tracks, "Death In Denial" and "Cyber Girl" can be found here too and can be still counted to be favorites of this Californian act. Also those raw and filled with tragic voice-samples tunes like "We Do" represents MORDACIOUS, and what's it all about. To satisfy your inner needs by playing a lot with fetish themes, as it is seemingly one of the most impacting influences to MM. Contrary to multiple other projects out of a similar genre, MORDACIOUS can be booked for live performances and "Necrolust" works well as being an application form.

image not
available
anymore
Artist:
Empty
(@)
Title:
Surfacing
Format:
CD
Label:
Aphotic Audio
(@)
Distributor:
DSBP
Rated:
The ongoing lack of sales of physical CD's may doesn't allow a music project to wait nearly 6 years for the release of a first full-length album. But as usual, those things differ with Australia's EMPTY, as they still rely on their very own talents regarding production, releasing and distribution under their Aphotic Audio label. After three well recognised EP releases ("Open Aeon", "Aeon Xpand", and last years' "Never Get To You") and a digital-only instrumental soundtrack-like collection freely available from their website, they finally could get it ready - a real full-length album. Whoever knows, if this one would been ever released, if there wouldn't have been so much unexpected positive reactions on their last EP "Never Get To You". Somehow this release has been a kind of trigger for Daniel Brunet and Aaron Potter, as they had initially installed newer and more refreshing elements into their arrangements. The usage of Clicks 'n' Dubs, Breakbeats, lighter synth lines and lesser fx-processed vocals especially on "Never Get To You" has seemingly left influence on all of their newer compositions - finally it has only taken a year after the EP, until this album was ready to get dropped on their audience.
EMPTY are always, and have always been, quite aware to sound unique, and at least to experiment with this rather untypical and IDM-related sounds and patterns has offered them the needed doze of self-confidence into their own abilities. Their music remains to be Dark Electro, but there's no PUPPYan bone-licker copycat-syndrome recognisable. "Surfacing" therefore picks up exactly that path, which "Never Get To You" has started - better said, it refines those ideas without altering their musically origins. Stereotyped thinking has been always with them to describe their sound, and I remember, that I named quite often DISMANTLED as being a reference - but that can only catch a small part of their meanwhile grown musically spectrum, they nowadays like to produce.
Already the starting instrumental track "Deprivation" presents a lot, but not all of their musically influences, by combining detailed and dark-minded synth sweeps with diverse rhythm patterns. Both, "Never Get To You" and the already discovered b-side of that EP, "Forgotten Dreams", got included too. "The Centre" then can be named as being the centre of attention, as this track comes out with a heavy bass line programming and again a rather IDM/modern Electronica-sounding rhythm work - highlighted by the slightly vocoderized, but catchy vocal performance, which offers this track a high recognition value. Then the tempo turns down and the synth pads got even more icy, but also melodic produced with true and epic Dark Electro components, "Drift" turns in and leaves you breathless. Definitely their best tune so far, although it draws the nearest relations to earlier works like "Ghost Besides You" for example, available on "Open Aeon". Again spectacular - the usage of their typical vocoder effects on the vocals. At least, that lyrically quite hopeless track "Frames", featuring Tessa Zynik as being the female vocal counterpart, impresses with a sad mood and light piano drops.
"Surfacing" offers one remarkable tune after another and if you would decide, to spin it the 25th time, you would still find some new and extra-ordinary content worth to discover. This album seemingly gets never boring - which other release out in this year can offer the same impression like this one? A must-have release!

Artist:
Philipp Quehenberger
Title:
Hazard
Format:
CD
Label:
Laton
(@)
Distributor:
Trost
Rated:
The unpredictable keyboardist, former metal-head and electronic musician Philipp Quehenberger gained a certain visibility three years ago for his album Phantom In Paradise, as it was a record issued by Editions Mego which sounded quite different from other releases by the far-sighted label managed by Peter Rehberg, but Philipp's experimental attitude fully justifies his presence in such a blazoned roster: the main points of intersections with his previous release is the use of swirling noises and deep distorted sub-tones, being the main difference the lack of male vocals as well as interesting stylistic research. Philipp Quehenberger's attempt could be synthetically described as a conjure between the rhythmical structures of electronic body music - in many tracks of Hazard, the influence of the sound of DAF as well as his experience as a studio-musician for Dj Hell is quite clear indeed -, psychedelic noise-rock and IDM. Such a freak deriving from the hybridization of different but often complementary genres has been molded throughout eight scrupulous tracks showing their creator's skills hazarding progressive sound saturations of the sound.

The morbid Stupid Idea, starting the sequence, begins with the sound of a typewriter working almost as a metronome for the obsessive rhythmical step, while the following track, Undante, mixes it up certain sci-fi scents - those thrilled howling sounds normally announcing the invasion of some weirdy alien race on Earth in American and Janese sci-fi movies…- with a well-done dubbed drumming canned by Fuckhead drummer ddKern. Most of the next waves of the album have the same structure with just some relevant variations on the hypnotic Hey Gert - whose heavy-dub stepping and some distant guitars effected by wise reverberations and delays reminds some past releases by Eraldo Bernocchi or Bill Laswell -, the crank pitch in Hard Joke, the bizarre splashed drum crashes on the mumbling Keep Talking which seem to be injected in a sequence of quad waves according to the customs of some electro bandits - maybe the closest to DAF sound of the album -, the gluey techno pattern of the loony hammering of After Death Business. Some stylistic devices as well his leaning towards risk could let you suppose Philipp Quehenberger could be the bastard Austrian cousin of Meat Beat Manifesto's Jack Dangers or maybe he just shares the same pots and pans in order to cook the groove.