Industrial Music / Industrial Metal / Aggro Industrial / Electro Metal
Edit (9267)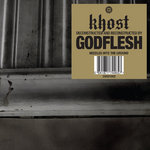 Artist:
Khost [Deconstructed And Reconstructed By] Godflesh
Title:
Needles Into The Ground
Format:
CD
Label:
Cold Spring
(@)
Rated:
This release is a reworking of Khost's material by Justin K. Bradrick of Godflesh, one of the key figure of modern music. The first three tracks are the result of the application of the formal structure at the core of Godflesh output while the fourth one is a new track by Khost, a duo made up of Andy Swanc and Damian Bennett, which left almost unchanged my opinion about them.
The first track of this EP, "Inversion", shows the main element of Godflesh music: a square and hypnotic rhythmic cage where all sounds are united in a thick mass. The noise element is, instead, the element which at the base of the relatively shelled form of "A Shadow On The Wound" that acts as an introduction to "Revelations Vultures Jackals Wolves" where the rhythmic articulation is applied to noise, so creating something distant from typical noise music that is close to the stream of consciousness. The Khost's track, "Deathsset", sounds as an homage to Godflesh being so close to the sound of this band to let the impression to be an outtake from one of their classic album.
These four track is a statement of a form which isn't aged in all those years perhaps because it was too personal to generate a scene and become popular. Another sure pick for Godflesh's fans.
Artist:
Ultraphallus
Title:
The Art of Spectres
Format:
CD
Label:
Sub Rosa
(@)
Rated:
After a couple of self-produced albums - "Lungville" (2005) and "The Clever" (2008), being the latter the one which included most interesting ideas, even if partially listened in the 90ies in the stuff of bands like Starfish Enterprises - and an album - "Sowberry Hagan" (2010) - on the English label Riot Season, the Liege-based Belgian band Ultraphallus -made up of Phil Maggi (vocals, samples, electronics, trumpet, percussion...maybe some Chain DLK readers met his name as he signed some outputs on Idiosyncratic, a label I keep on following, wisely managed by Phil himself), Julien Bockiau (bass, drums), Xavier Dubois (guitar, bass), Ivan Del Castillo (bass) - moves towards intriguing and definitively more experimental stylistic rough terrains. Even if there are many common factors with so-called sludge metal bands (mainly some political and sociological issues, developed as if they got filtered through a cynical lens and a visionary distorting one, abrasive guitars close to stone rock and shouts that featured former outputs of the band), I won't label - thank goodness! I would have already skipped all tracks... - them as a proper sludge band. On this album, whose output was initially announced for the beginning of 2015, they wisely melt death core, doom metal, noise, art-rock, dark ritual ambient, music of western movies, deviant declensions of blues (check the second part of "Let Him Be Alistair") and electronic movie music and replaced avalanches of riffs that featured some of their previous outputs by pernickety jobs on guitar-driven spindles. I could vaguely describe them as a strange hybrid between an abstract interpretation of Ramesses' music and some stuff coming from Gent-based label Delboy (Blutch, Black Cobra and so on). The hyper-amplified convulsive guitar-driven opening "The Blood Sequence", where the really spectral voice by Phil Maggi seems to give voice to a personal manifesto, sounds like the appetizer of the piercing sound by which they drill the almost tribal mantra of "Madrigal Lane", the hyper-cynical debunking hymn of the above-mentioned "Let Him Be Alistair". The track in the middle of the album, "The Death of Mark Frechette", evokes some stuff by The Residents, but the choice of the reference - Mark Frechette was the American actor that became notorious after interpreting the leading role in Antonioni's "Zabriskie Point", who died in prison after having been suffocated by a barber that fell on his neck... - sounds like a merciless grin on the jokes of fate. The spleen of "Whitewasher" precede the likewise cynical sad portray on "Eva Ionesco" (the well-known baby model), and the ghostly feast of the final "Sinister Exaggerator" are some of the highlights of an assay of spectral art.
Industrial Music / Industrial Metal / Aggro Industrial / Electro Metal
Edit (9260)
Artist:
War Anyway
(@)
Title:
War For Peace
Format:
CD EP
Label:
self-released
Rated:
As far as I can tell, War Anyway is a French Martial/Industrial duo and I think 'War For Peace' is their debut release. According to their press release, War Anyway says "Loudness and war songs are the way to bring the necessary war for peace." To me that's kind of like saying "the sounds of sniper fire and songs about shooting cops is the best way to end gun violence." Okay, I get it. Industrial music has a long history of war-themed songs, both real and imagined. But here, we have a rather artless attempt to make a name for a clichéd-sounding industrial act with their scorched-earth policy of all out war themed
tracks. Beginning with "Crossing the Rubicon," the band starts out with a kind of percussive apocalyptic ambience before crunchy guitar and abrasive growl-shout vocals take over. I guess you're supposed to be imagining Caesar's soldiers marching into glory, but it sounds more like an army of Blutos in search of a Popeye to pound. "We Are the Army" takes a Front 242 beat with more Bluto vocals (occasionally morhping into screamo) but injects this light tinkertoy melody over the top. WTF? Maybe they were striving for irony, but the incrongruity is just overwhelming. "Actions Have Consequences" samples about half of Obama's March 2011 speech on the Libya intervention (let's face it, it was a fucking invasion) over an martial-industrial music background. Does anyone really want to hear that crap again? I think not. And that's the entire song, lock stock and barrel. "The Rise of a Tyrant" has plenty of staccato industrial guitar stabs with more agressive growly vocals. Final track, "The System is Down" is the only track that shows a hint of promise with its cyber-techy ambience, until those Blutoid vocals come in and and render the whole thing into some parody of an industrial band. You know, I really like industrial music, good industrial music that has been done by many class acts over the years, and even some new lights on the horizon, but this, this is just sub-par. Unless these guys can come up with something a whole lot better for their next release, they better not quit their day jobs.
Industrial Music / Industrial Metal / Aggro Industrial / Electro Metal
Edit (9142)
Artist:
Daniele Brusaschetto
(@)
Title:
Radio Stridentia
Format:
CD
Label:
Bosco records
Rated:
Daniele Brusaschetto has been a staple in Italy's sad and ever-more-shrinking industrial/rock scene for at least 20 years now, and honestly I lost count of how many records he's made... he just keeps putting them out, as he should!
The latest one is called "Radio Stridentia" (full disclosure: I did master this CD) and is a collection of 6 songs, some in Italian and some in English, featuring guest drummer Bruno Dorella on two tracks, guest e-bow guitarist and synth-player Francesco Lurgo and guest synth player Marco Milanesio (of DsorDNE fame) on two tracks. This CD even has a Leonard Cohen cover, which I hadn't initially recognize.
Musically I would say Daniele revisited his darker and moodier songwriting and orchestration chops... the guitar is ever present, being his main instrument, and so is his peculiar vocal style, of course, but the surrounding instrumentation and arrangments are a bit less abrasive than in some of the previous releases, so the focus is back on the lyrics and the ambiance... The opening tune sounds like it is came straight out of one of the quieter Einsturzende Neubauten releases (think "Haus Der Luge" but with Daniele's languid, smooth and less atonal voice) but then turns into a mixture of that and a more nordic, almost Autechre/Boards of Canada sound. Right after that the fuzzy guitar comes at you strong to keep you on your toes and remind you what you just signed up for. This is maybe one of the hardest and harshest songs with a four on the floor almost techno-industrial beat that is subdued by the industrial fierceness and distortion. Then the strident radio tunes back into something initially more approachable, and by track 4 you even get a glimpse of a nylon string guitar (if not a first, definitely a rare sight in the Brusaschetto world). This is also the first track in English and it eventually turns into a drum'n'bass opus with a reverberated distorted synth line that kinda hovers over the interesting chord changes that evolve and devolve around the initial chord progression. Very interesting track. The punk roots of this artist sometimes shine through but never really make themselves known in a clear or obvious way or just hide under the noise-rock umbrella. When he goes from his low register to his falsetto singing and throws in clean arpeggios of electric guitar there are almost some echoes of Radiohead, or even The Cure (on track 7), but Brusaschetto always retains his harsher nature and his bedrock of industrial activity and art-rockerism, and he likes to remind you of that with a great closing track that has a bunch of guitar overdubs over some kind of repurposed and highly treated drum beat that carries one of his more melodic vocal performances.
If you are tired of the usual industrial rock or of the usual rock or of the usual industrial, and definitely if you are tired of the usual Italian music, you must check this guy out!
image not
available
anymore
Artist:
Antichildleague
Title:
Holy Ghost
Format:
CD
Label:
Hagshadow
Rated:
Antichildleague is the brainchild of Gaya Donadio, also boss of the Hagshadow label/distribution and formerly promoter under the Hinoeuma the Malediction monicker. Born in Italy, Gaya moved to England in the 80s and started to be active in the punk movement organising concerts and playing. Basically, she's still doing that and even if the industrial power electronic sound of ACL wouldn't suggest that, she's still following the d.i.y. philosophy and somehow she's still punk at heart as she's struggling to living by following her own path and not by someone else's rules. Born almost two decades ago but releasing the first CD album only eigth years ago, the project has just a new album out, titled "Holy Ghost". This album is the last part of a trilogy ("The Father" and "The Son" were the first two) and as you may suppose, its theme is focusing on the disasters caused by the catholic education/morale. The rules imposed by a family which is not fed with love but only with rules and guilt can create monsters and Gaya is picturing that crude reality. Starting from the disturbing cover of a rotten dick painted by Jukka Siikala. "Holy Ghost" contains thirteen tracks in balance from industrial to power electronic, as I already pointed out earlier, where Gaya blends digital and analogic noises adding to the mix filtered vocals. So, how it sounds? If on "I Hate You" and "Ice Heart" we have metal clanging noises with raging distorted vocal cries and distorted synth waves, on "Weak Seed" the atmosphere is always tense and we have an upbeat rhythm with background noises coming and go. Listening to the tracks I imagine Gaya balancing the intensity of her sound as well as she tries to deal with her rage. I'd like to point out that even if we have titles like "Penis Dead", "Dick Funeral" or "Guilty Women", don't think that ACL is sounding like the old classic Whitehouse. Here we have a different approach: if in Whitehouse sex and violence was showed to provoke, here the main theme is sex and violence perpetrated by people dealing with religion. Think that here in Italy, lately, we have priests accused of pedophilia more than rainy days in a year: this is the real horror! ACL is bringing you her vision of all this and it isn't meant to be nice...