Industrial Noise / Power Noise / Harsh Noise
Edit (5419)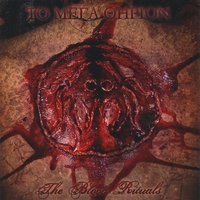 Artist:
To Mega Therion
Title:
The Blood Rituals
Format:
CD
Label:
Vendetta Music
(@)
Distributor:
KGD Media
Rated:
The title doesn't promise anything good. Right on, after his debut on the LA-based seems-to-be-ended label Sistinas. TO MEGA THERION-mastermind Tyler Viscerine returns with 6 new blood-and noise-infiltrated tunes featuring an monstrous and ritual-inspired background. The heavy-weight noise arrangements he produces are stuff to tease the nerves of your neighborhood and are in no way compatible with the faint of hearted. A depressive and deep down the drain-like voice sampling ("We Are Immortal") can't even add light into this ritual and satanic sound outfit. In this merciless and filthy kind, any doubts on Tyler's sound and artistically outfit as being only a play with some evil genres to follow a hype are forbidden – this one seems to be authentic and meant seriously. Asides the 6 original tracks, further remix contributions by well recognized projects and label mates like W.A.S.T.E. (has recently signed too to Vendetta Music – and Tyler has become a permanent member of the live crew of this LA-based Powernoise-act), AH-CAMA SOTZ, VUXNUT, the uprising EMBODI, Tympanik Audio's ENDIF and ALTER DER RUINE (who recently could arrange a deal to Germany's ProNoize label). Of course these remix contributions are rather pressing the TO MEGA THERION tracks into a more dancefloor-friendly sound outfit, since the floor addicts could be generally hardly accept the pure original versions. So this new album features both, purest noise terrorism for the listen-only audience, as well as enough valuable stuff to move to.
In latest news we need to admit, that several prominent web resources censored the original cover art, which you can still see above...
Artist:
VV.AA.
Title:
Songs for a Child - A Tribute to PIER PAOLO PASOLINI
Format:
CD
Label:
Rustblade
(@)
Distributor:
Masterpiece
Rated:
Some Italian journalists have tried to make a great fuss about nothing related to this interesting issue and right and proper tribute by the Italian label Rustblade to the most prominent Italian poet and intellectual of the previous century, Pier Paolo Pasolini, whose death by mysterious homicide dated to back to 34 years ago (it was 2nd November 1975 when his body was found on the beach of Ostia, nearby Rome, being run over his own car by Giuseppe Pelosi, a 17yrs old hustler, even if the way events occurred is still substantially unexplained) has been recently remembered by some media (sometimes inaccurately). The uselessness of the above-mentioned polemics being about the presumable lack of suitability between a collection of songs belonging to the so-called avant-garde music scene and the poet's hostility towards some futile excesses of some avant-garde forms of art and literature consists in the "genetic" defect some reviewers show when they didn't manage to contextualize expression as they look too self-confident in arguing that contemporary musical languages are just a product belonging to our days. Are they so sure that Pasolini would not have appreciated this tribute as well? As I'd like to exclude the hypothesis those reviewers act like mediums chatting with the souls of dead bodies (requiescat in pacem!), I think these polemics are quite fruitless. It's even longer sensible to them asking what should be the ideal arrangement of Pasolini's thinking (in particular his ardent critic to consumerism running side-by-side to the one against bourgeois values and ambitions standing behind the picaresque neo-realism, standing out among his flunkey contemporaries) nowadays.


An elegant artwork with images provided by the portrayer Saturno Buttò and the painter Alessia Catanuto for a selection of 14 tracks (hurry up if you're interested in it as it's another strictly limited edition... just 696 copies issued... ) signed by an interesting roster of European underground scene, ranging from the renowned Coil '" whose track Ostia (The Death Of Pasolini) propelled by an entrancing string session composed by Billy McGee, a sort of musical epigraph on the death of this illuminating as well as troublesome intellectual , was already issued in their intriguing apocalypse-inspired Horse Rotorvator '" to the foggy dark-ambient by Bahntier '" project by the label head of Rustblade, Stefano Rossello '", from the touching and crystalline folk-pop by Spiritual Front to the lopsided fractured drops of diapasonic guitar of Les Mille Et Une Nuits by Ah Cama-Sotz to the corrupted string sonata on the subliming vocal samples by Pasolini himself reciting the so-called "civil poems" propelled by the creativity by Alio Die, from the electrified oddities by Teatro Satanico in Ppppetrolio and the esoteric choirs combined with ritual sound hooks by In Slaughter Natives, from the stinging dark pulsations of the obsessive downbeat by Condanna to the grand droning with some famous samples by the poet attacking fascists depicted as criminals thirsty of power by Sandblasting and so on... And even if the Supplica by Black Sun Productions could not easily be compared to the most famous one by Diamanda Galas, we have some evidence to say that maybe Pier Paolo Pasolini could appreciate it if still living as one of the most intriguing musical memorial and summary of the highlights of his scathing thought...

Artist:
This Morn' Omina
Title:
Momentum Of Singular Clarity
Format:
CD EP
Label:
Ant-Zen
(@)
Distributor:
Ant-Zen
Rated:
Wow! The return of the international renowned Industrial-musician Mika Goedrijk under his main project THIS MORN' OMINA promises a lot, although this new release is only a 5-track-EP. Together with partner in crime Sal-Ocin (EMPUSAE, TZOLK'IN), he has decided to hire with Spike a third member for all future productions of this Belgian IDM/Industrial outfit. These five tracks are musically more based into the Dark Electro genre featuring a slight Tribal influence, instead of Noise, a quite surprising, but welcomed development. The main track is "Momentum", available in two versions, a hard and forward moving tune, which should be able to appeal the dancefloor-oriented people. No cheap Hellectro relations included, this piece is one of the few smooth pieces consumable at your home entertainment too. "Nuraghi" starts with some fine layer sounds which remind a lot on TZOLK'IN until the beat and some sparse inserted vocals dominating the scenario. Another highlight has to be named with pure instrumental tune "Ananda", which leaves completely out all floor-compatibility – it's the dark mood well presented through tasty arrangements, which score here. Again – all I can say is "wow!" – this EP is a mouthwatering new sign of life of this Belgian collective. When to expect a new album... ?

Artist:
Totakeke
Title:
The Things That Disappear When I Close My Eyes
Format:
2CD (double CD)
Label:
Tympanik Audio
(@)
Distributor:
Ant-Zen
Rated:
New York-based Electronica-wizard Frank Mokros is back with a new double CD album. Disc 1 offers the new studio work of Frank, which continues with his futuristic IDM/Electronica music we could discover with his last year's brilliant album "Elekatota: The Other Side Of The Tracks". The presented variety and diversity in his music arrangements somewhere based into genres like Ambient, IDM, Noise and Industrial can be heard very seldom – Frank has the abilities to write perfect film scores for Sci-Fi- and Cyberpunk-related movies yet not produced. Multiple layered, high complexities in the production of synth and drums/percussion – yes, Frank's music is demanding – but the listener gets so much rewarded for his full attention, which is required to consume his masterpieces of music. TOTAKEKE is one of the very few founded flowers, which someone can be identifying with. Normally tend to I prefer the rather straight arranged tunes, which allow some Industrial dancefloor movements. Tracks like "Disconnected Inside", the harsh and nearly Powernoise-like "Anterograde Amnesia", and the extremely catchy title track services this greed well. But here are 2 additional pearls needed to be mention, "Permanent Note", reminding with its mighty basslines and the rather slow tempo on "Bio-Mechanic"-like FLA featuring more complexity, and the eerie "Patient HM" with its simple, but so damned effective piano sound inserts. But all of these good things don't end here, because Tympanik Audio has decided to assign all free slots of your CD players with Disc 2. This second disc offers some new interpretations of "Pull The Plug" and "Ignorance" provided by Frank himself, some new amazing tracks ("Gone", "Can't Feel Time" and "Buried Is... " – A-MUST-LISTEN-TO!) and several remix contributions by Frank's highly-acclaimed label comrades. ZENTRIERT INS ANTLITZ ("Permanent Note"), the raw PNEUMATIC DETACH ("Anterograde Amnesia" – how could someone think, that Justin Brink would put his fingers on any additional tune? Nice cover art too, Mr. Brink!), AUTOCLAV 1.1 ("Lost And Falling" – can a remix score against an original? It can! Well done, Mr. Young!), LUCIDSTATIC ("The Things That Disappear When I Close My Eyes"), ACCESS TO ARASAKA ("Contusions" – that nervous hacking hi-q programming offers creativity – a new talent to follow!), FLINT GLASS ("Patient HM" – nice try, Gwenn, but that's one of the most difficult remixes. Nothing can rival with the brilliant original) and the Slovakian heroes of DISHARMONY ("Memoria" - quality as usual, Ryby, we'll come on your new tunes soon... ) are featured here. I could slander again through this whole album and will be surely find several additional gimmicks and attractive things to report of. It's a matter of fact, that albums of TOTAKEKE won't never get boring and the music offers so much new facets to discover, which I could easily use as an additional apology, why I've delayed the review that long. However, get this masterpiece!


Industrial Noise / Power Noise / Harsh Noise
Edit (5371)
Artist:
Synapscape
Title:
Again
Format:
CD
Label:
Ant-Zen
(@)
Distributor:
Ant-Zen
Rated:
SYNAPSCAPE releases are still a welcomed and beautiful regularity – and "Again" is no exception. The dynamic duo from Bielefeld keeps on their long-year career with a new smashing album, but compared with the predecessor "Now!", I tend to rate this new effort as being lesser accessible. Their ability, to fascinate the listener with their extravagant poly-rhythm programming accomplished with Tim Kniep's heavily distorted vocal performance, is still unbroken. But the more they tend allow rather IDM-related rhythm works to take a seat in their Cadillac, the more experimental-minded they come out. It's nice to see, that they still have the ability to develop, but I found "Now" generally more hitting the nail. Good stuff on here too, the rather straight-oriented and with vocals supported tracks like "Who Painted My Cat Black" or "Stuck" are favorites, while some others may tend to like those sick Downbeat-tracks like "Ring The Bell" better. As for the instrumental tunes, I'll give out applause to "Aftermath" with its pummeling kick and snare work. That rather like old DIVE-sounding tune "Alone" impresses too. SYNAPSCAPE once again completely convince, although some hints on a more detailed concentration on IDM-related structures seem to be integrated. Their long and more than 15 years long career hasn't found a sudden end. Let's see and listen, with which kind of evolution they'll surprise us next year.