Experimental / Avantgarde / Weird & Wired / Glitch / Noise / Field Recording
Edit (10337)
forM is experimental electronic glitch artist Robert Newell, and this self-titled album on the Aubjects label is his debut solo release. Newell has been involved in electronic experimental music since the early 90s, and has been a member of Bob Hallucination, Headless Ballerinas Underwater, and perhaps most notably, Amalgamated. Of those three, the only project I'm the least bit familiar with is Amalgamated, who some passing acquaintance turned me on to some years ago. In taking a brief tour through some of Amalgamated's discography, I can definitely hear the connection, although Newell's forM debut is quite different than what Amalgamated seems to be about. The album is comprised of 14 pieces, all quite different from each other in tone and temperament, but unified by certain factors. One way or another there is a good deal of repetition, but not always. Some pieces seem highly structured while others are chaotic. Opening track "Fr0353" could almost be a sci-fi show theme with it's repeating melodic bubbly space synth over light mellotron chords in the background. The followup, "n30n" is a melodic haze of digital sounding synth pan-echoed to the nth degree. "00n0my" uses a repeating pattern synth melody and drumkit where in spite of a repetitious,rhythm, numerous rhythm embellishments develop as well as a whole lot of synth incidents and events. "Gran35" sounds like a cluster of musical Berbers taking a spin in a psychedelic dark ride, or maybe a Middle Eastern game arcade gone bananas. You could conjure up many different descriptions for these pieces, some wacky, others in a more serious vein, but most of them are quite intriguing, even if you can't really ascribe a theme or motif to every one. Unlike some experimental electronica, forM is pretty easy on the ears, so even if you're not a hardcore experimental enthusiast, you will probably find this very pleasing. I should also mention that Phillip Klampe (also from Amalgamated) is responsible for additional effects and sounds on this album as well as mastering and production. Limited to 75 copies in CDr digipak.
Experimental / Avantgarde / Weird & Wired / Glitch / Noise / Field Recording
Edit (10335)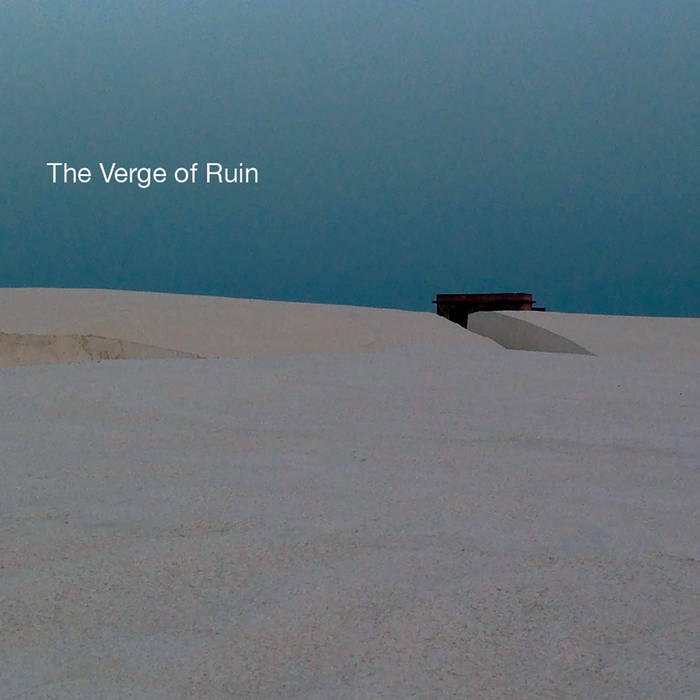 Artist:
The Verge Of Ruin
Title:
Learn To Love Solitude
Format:
CD
Label:
Setola di Maiale
(@)
Rated:
This project is presented by their members, Stefano de Ponti and Shari DeLorian, as "a research in sound and poetry" and, while it's not clear the meaning of this claim after the listening of this first release, sounds as completely focused on a idea of "writing as editing". This release sounds as developed by pasting fragments until the result is more than the sum of the parts.
The track starts in a relatively free form dominated by sparse sound mostly of concrète origin and percussion; after all this movement, there's a part based on drones of long tones searching resonances and juxtaposition. Then, the track begin to oscillates between static and dynamic moments so e.g., after a detailed drone there's an abrupt explosion of noise. Above all, there's the impression that, more than a sound research, there's an idea of musical movement based on short musical moments in direct contrast between them as a sort of dialetic without synthesis.
All those materials compressed in a so short span (the release lasts just over twenty minutes) means a demanding listening asking for a particular concentration. Not exactly a easy listening but it's full of subtle ideas that could have been perhaps more developed. However, it's recommended for fans of experimental music.
Experimental / Avantgarde / Weird & Wired / Glitch / Noise / Field Recording
Edit (10333)
Artist:
Francois Bayle
Title:
Tremblements
Format:
LP
Label:
Editions Mego
"Tremblements" re-issues two experimental electronic works from the end of the 1970's, when the synthesizer was well on the way to stepping out of the avantgarde and the Radiophonic Workshop and into mainstream and pop music. But this arrangement of oscillators, sparkling bleeps, tweaks, bells and found sounds (footsteps, radio noises etc.) is firmly in the former category, with a certain air of theatricality in the deliberately rise-and-fall, stop-and-start performances.

"Tremblement de terre très doux" is a cycling 28-minute series of "climate", "transit" and "landscape" elements, each one building from a flat soundscape- sometimes silence- into more frenetic sections of layered and high-pitched electronic waves that sound at times like a 70's TV spaceship computer bank in turn launching, running smoothly then threatening to crash.

There's less of a sense of revelry in second piece "Toupie dans le ciel", which is described as containing 27 interconnected 'cells' each with a different theme of scientific measurement (distance, pressure, density etc.) though compared to the previous piece this distinction is much more arbitrary- the sound itself is a 21-minute continuous series of meandering, 'blinking' oscillators which switch constantly between two slowly changing minor chords, sometimes tending towards surprisingly high, tinnitus-and-dog-whistle level pitches. After eleven minutes we begin to hear lower, more metallic, scratchy tones, but the alarm-like bleeping promptly re-engages and never strays too far away. Things get a little warmer towards the end.

Speaking only for myself, I much preferred the first track, which brought with it a sense of fun, to the harsher and more immersive second piece. Neither track provides a particular 'missing link' in the history of electronic music, but fans of this stripped back, in-depth analogue electronic experimental tone will certainly find something to engage with in this.
Experimental / Avantgarde / Weird & Wired / Glitch / Noise / Field Recording
Edit (10327)
Artist:
Christian Zanési
Title:
Grand Bruit / Stop! l'horizon
Format:
LP
Label:
Editions Mego
The Edition Mego mission to re-issue old experimental electronic works from Groupe de Recherches Musicales continues with the release of two slightly disparate 20-minute-ish works from Christian Zanési.

1991's "Grand Bruit" is a luscious and bubbly work of electronic pulses, synthetic bell sounds, tweaks and enhancements that reminds me of parts of Jimmy Cauty's "Space" work. It exhibits tones that reflect the growth of ambient at the time and seem to parallel the proper trance music of the early 90's but taken into a more abstract and alien space. Fans of downtempo 90's electronica should certainly check out this little piece of history.

The second piece "Stop ! l'horizon" is from 1983, and manages to sound both further ahead of its time, yet less distinctive, at the same time. The slowly rising and falling clicks and rubs and the crunchy single-hit percussive sounds seem to emulate glitchy electronica despite predating it by a decade or more. There's less going on, and more use of low level reverberence and decay, giving a sparse and melancholic feel. It also feels quite sci-fi, perhaps through the modern associations now established with some of the doppler rotor sounds being used.

These are amazing works for their time, bold and amazingly polished. If they had had more accessible structures perhaps Zanési's reputation in the timeline of electronic music would be more well known, as on the evidence of this, it deserves to be.
Experimental / Avantgarde / Weird & Wired / Glitch / Noise / Field Recording
Edit (10326)
Artist:
Iannis Xenakis
Title:
Persepolis
Format:
LP
Label:
Karl
Previous, now out-of-print issues of Xenakis' 1971 work "Persepolis" are something of a rarity, going for quite substantial figures on sites like Discogs even though they suffer, apparently, from errors or abridgements that mean they don't represent the complete work. Now, Karl Records have arrived with a newly remastered and apparently complete 55-minute LP & download issuing it in all its glory.

In nine numbered but continuous parts, it's an electroacoustic assault of metallic drones and scratches, heavily processed noises and somewhat tortured organic noises. It's a wilful wall of noise that's staggering for 1971, taking the still-fresh experimental avantgarde principles and pushing them to what must at that time of been their logical extreme- a completely space-free, densely packed overlapping of layers into something so relentless and impenetrable that when you listen to it, after a while you stop hearing the full extent of the noise and start zoning in on some of the details as though you're watching one particular piece of shrapnel in a huge explosion.

It's only in the details that individual parts could be identified with care. The third part, for example, with strained and stretched bowing of string instruments, is notably disorientating. The fifth part, with occasional echoing noises like seatbelt signs creating a sonic aeroplane nightmare, while the sixth part sounds like some of the Lygeti music in 2001: A Space Odyssey would have sounded if the composer had decided it wasn't yet extreme enough. The final part is a touch more percussive, with a steady sense of upward sliding that creates an escalating tension that never truly resolves, just bluntly stops.

Even without exploring the political context of the original work that could have been seen as shockingly secular when first performed, it's unquestionably ahead of its time and still challenging almost 50 years later, clearly a milestone in electroacoustic music, and with a very nice new presentation too.