Artist:
BLEEDING HEART NARRATIVE
Title:
All That Was Missing We Never Had In The World
Format:
CD
Label:
Cold Spring Records
(@)
Rated:
Originally released the last year on Tartaruga Records, ALL THAT WAS MISSING WE NEVER HAD IN THE WORLD, is the debut album by Oliver Barret's project Bleeding Heart Narrative. The twelve tracks of the release (on this Cold Spring reissue there's a short bonus track titled "Blueskyward") are in balance from orchestral noise rock, psychedelia, power noise (see the distorted orchestral opening tune "Bhn") and chamber shoegazing. Composed mainly by several layers of piano and strings filtered through reverb, the tracks are able to create moments where melancholia and a particular kind of romanticism are mixed. See for example "Black glass", where piano and melodic vocals form a proper song where sounds seem to come from another world. Listening to ALL THAT WAS MISSING WE NEVER HAD IN THE WORLD I have the same feeling I had listening to Slint records where tension and despair blend. Have you ever realized what kind of sound could produce a breaking tendon? I think this album is the answer...
Experimental / Avantgarde / Weird & Wired / Odd / Field Recording
Edit (5183)
Artist:
STEPHEN FLINN
(@)
Title:
architect of adversity
Format:
CD
Label:
Creative Sources
(@)
Rated:
A drummer and a percussionist here, I've never heard any recording of mr. Flinn before and honestly I find his style is really interesting. This cd features a collection of short recordings where Flinn shows while having his own approach he can give us a varied series of compositions. I dunno if he's worked on the post-production or he managed to put effects on while performing this music live in studio (I mean if he has used electronics or analog-acoustical interventions), by the way while showing he's not too far from many electro-acoustic releases on the same label, he has created his own personal voice. Here and there I got the impression it was some sort of contained Chris Cutler, but beside this impression the corpus of the whole work is quite far from Cutler and presents a diverse assortment of scrawls. You pass from electro-acoustic short rides to bass drums, from metal sounds to scratched squeaking sounds and furthermore you have bells, brushes, cymbals, drums, hand-percussions, chains, toys, compression springs and a variety of things he also portrayed in the picture he put on the front cover. I think he's been really smart in editing tracks this way and in giving us just the best portion of these short performances, I also assume he's also pondered meticulously the tracklist infact you have tone and atmosphere changes from track to track. When working with bass percussions he goes really close to some contemporary classic drumming but in the rest of the recording you have that ludic approach you also have with other smart heterogeneous drummers like Francesco Cusa or Mirko Sabatini and that's great since it shows beside being serious experimental/improvised music it can also be ironic, on the other hand it shows a genuine interest for sounds including ordinary objects, everyday things and so on. Probably who's into contemporary experimental drumming and percussionism may say Flinn follows the footsteps of many musicians approaching "percussions" in a different way, I can simply reply even if it's true, after having listened a ton of recordings like this, in a few seconds you can't but notice he's both style and good taste for musical solutions.



Experimental / Avantgarde / Weird & Wired / Odd / Field Recording
Edit (5181)
Artist:
MAZEN KERBAJ, BIRGIT ULHER, SHARIF SEHNAOUI
(@)
Title:
3 : 1
Format:
CD
Label:
Creative Sources
(@)
Rated:
It's a long time I'm not reviewing anything involving Birgit Ulher: "the un-sounding trumpet lady", if you permit me to label her this way. This time she's back with a duo featuring acoustic guitarist Sharif Senhaoui and another trumpeter who's name is Mazen Kerbaj, the trio is really well balanced and the blend is tasty, so tasty I'd dare to say this' the best cd I've heard with miss Ulher. They've the typical Creative Sources un-sounding contemporary-concrete-electro-acoustic-performative sound and if that doesn't make such a great sense to you, imagine you'll hardly hear a "normal" note you can put in relation to the instrument afore mentioned. Cripple notes, fragmented sentences, unspoken phrases floating ashore in the sketch of a dialogue, this music sometimes is much closer to ambient or electronic music than to improvised materials, let's say this' how certain electronic music would sound if it would have been played or performed with acoustic instruments. And again you have scratched chords, rhythmic tapping on the body of the instruments, high pitched sounds wrestling with half finished things, sometimes they even arrive really close to play what everybody would recognize as a note, but don't worry, "I've got no feelings for anybody else except for myself my beautiful self" to quote Sex Pistols. But besides my ironic approach, there's a lot of expressivity behind this "no feeling" joke, therefore what a mistake would be to consider this as a "emotionless" release. Sure this' an hard one to be digested for everybody who's not into this style, but if you're already "experienced" and confident with the genre the result is quite good and really temperate.
Experimental / Avantgarde / Weird & Wired / Odd / Field Recording
Edit (5177)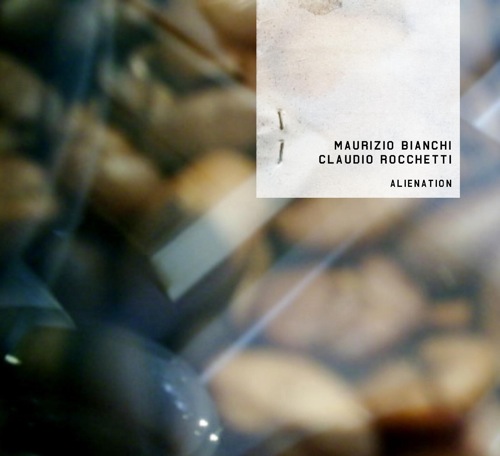 Artist:
MAURIZIO BIANCHI + CLAUDIO ROCCHETTI
Title:
Alienation
Format:
CD
Label:
Final Muzik
Rated:
A devastatingly physical approach to sound sources, I'm sure, was the spark of this collaboration between Maurizio Bianchi (think of his early and recently resumed experiments as Sacher-Pelz) and Claudio Rocchetti (also in 3/4 Have Been Eliminated, Olyvetty, In Zaire). No wonder the five tracks of "Alienation" are perhaps the most skeletal and improv-based MB collaboration ever, full of gaps and sharp edges rather than monochrome masses. "Avversione" is a harsher take on the trademark meditative music of Bianchi's 2000's comeback (piano, keyboards, orchestral samples è la "Cycles"), while on the other end of the spectrum Rocchetti drowns the rusty loops of "Estraniazione", after a crescendo of low thumps, in a swamp of buzzes and feedback. The whole album sort of oscillates between those two poles - sometimes in a quasi-orchestrated cohesiveness, sometimes showing bleeding cuts and raw nerves. It's a sort of long-distance tension which adds to the uneasy feel of this "dangerous terminal drama".
Experimental / Avantgarde / Weird & Wired / Odd / Field Recording
Edit (5174)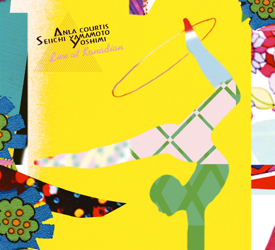 Artist:
ANLA COURTIS, SEIICHI YAMAMOTO, YOSHIMI
Title:
Live at Kanadian
Format:
CD
Label:
Public Eyesore
Rated:
No credits at all for this live trio featuring ex-Reynols Courtis, Yamamoto and Yoshimi (both from Boredoms), just a messy layout as a visiting card for a deranged psych fest. Track 1 is a bruitist take on blues rock, with an attempted riff constantly fractured by gross distortion and delay pedals. Track 2 opens with banshee moans soon sky rocketed in an ecstatic para-folk raga. Then some canyon-diving in track 3, your neurons become tumbleweeds. Track 4, now have some rest, cowboy, the coyotes are getting closer.