image not
available
anymore
Created using processed natural sounds, BLACK GRAINS is the first album by Laurent Perrier's Pylóne. The album is divided into five movements: "Equation Part 1", "Look Part 3", "Transmission" (the longest one, during 25'), "Line 4" and "Echo". The intangible meaning of the different parts let us concentrate on sound and if I think about BLACK GRAINS' tracks, the first word that comes up into my mind is: disturbing. The minimal approach makes of this album an industrial experiment based on the process of adding and subtracting sound. "Transmission" for example sounds like a raw digitalization of a collapsing mountain while "Line 4" seems a re-process of the tone of a phone line but filtered, de-constructed and echoed. The closing "Echo" is digital chaos it seems the sum of the other track with further processing. Only for fans of extreme industrial experimentations.
image not
available
anymore
Artist:
LAURENT PERRIER
(@)
Title:
Downfall / Disperse
Format:
2CD (double CD)
Label:
Sound On Probation
(@)
Rated:
Laurent Perrier is the man behind Sound Probation records, label that he founded after ten years of activity of Odd Size records (it was also a record shop and a mailorder). With his new label he's active with different projects (Pylône, Zonk't and Heal along with his self named project, to name few) but it's the first time that he releases something under his real name. The double CD DOWNFALL/DISPERSE contains two long magmatic suites about 50 minutes long where ambient droning sounds meet idm like click and pops following cyclic structures. "Downfall" starts quietly and little by little sounds are added creating an avalanche effect just to end with a sort of electronic distorted buzz. "Disperse" is more quiet and since its beginning the structure is defined and it mutates during its whole length. The two tracks are part of the soundtracks of an Alban Richard – Ensemble dance theatrical piece and this double CD is a sort of documentation. The tracks could also work without the theatrical counterpart if you are used to long experimental suites, if not, you have been warned...
Experimental / Avantgarde / Weird & Wired / Odd / Field Recording
Edit (3114)
image not
available
anymore
Artist:
THE SHIPWRECK BAG SHOW
(@)
Title:
s/t
Format:
3" MiniCD
Label:
Wallace
(@)
Rated:
A fresh 3"mcd for the endless saga of collaboration relating Xabier Iriondo who's co-pilot this time is Roberto Bertacchini from Starfuckers/Sinistri fame. For everybody out there who's never heard Bertacchini's drumming I recommend to give a pay attention to the unique and incredible work of his original band and to describe it I can only say it sounds like the language coming from the mouth of someone who stutters. On this short collection of tracks Bertacchini's crippled rhythms cross and get crossed by some post krautesque assault a la Iriondo. The global listening could be resumed in: Faust or Can wrecking into a free/contemporary pool. More bluesy than Sinistri and probably closer to Polvere. I almost certainly should say this' a record that's mostly fan oriented and I presume I'm a fan somehow, since I think this mature drummer has his own style in full blossoming. This little slab of plastic contains odd music nervously duelling to leave silence here and there and to put every beat/noise in the place where it belongs. Has it been a victorious battle? Did this electro acoustic experience (cause that's what it is most of the times) went well? I'd say yes in most of the episodes and also thanks to the hand of Xabier in the production of the recording.
Experimental / Avantgarde / Weird & Wired / Odd / Field Recording
Edit (3109)

Artist:
FRANCISCO LÓPEZ
Title:
Untitled (2005)
Format:
CD
Label:
Anoema
Rated:
As I have just written below, this is the second "Untitled (Year)" release coming out this year, this time on Finnish label Anoema. The four tracks range from 8 to 25 minutes, and are well, uhm... splendid. The opening "Untitled # 177" is based on Bangkok field recordings that I can't really recognize, but the abstract violence of the piece reminded me of the collaboration with John Duncan or the (in)organic reasearch of "Building [New York]". It's a stunning dark piece, but the best is yet to come. Track 2 and 4 are lengthy wild environment-based pieces (with recordings from the Amazon forest and Québec respectively) that instantly plunge you back in the mesmerizing soundscapes of "La Selva" or "Addy en el país de la fruta y los chunches". As layered and complex as only López can be, with an amazing amount of sonic details even in the most minimal passages. Last but not least, there's the "Untitled # 111 [for Jani Cristou]", commissioned and performed by the German ensemble Zeitkratzer. If you're familiar with their works (with interpretations of pieces by Duncan, Ikeda, Merzbow, etc.), you'll know that their strings and wind instruments don't sound like a normal ensemble at all - indeed, while having a power and a sound texture of its own, the piece in unmistakably 100% López. Guaranteed to be in my personal 2006 top-list, for what it's worth.
Experimental / Avantgarde / Weird & Wired / Odd / Field Recording
Edit (3108)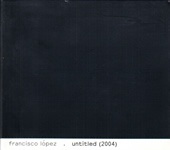 Artist:
FRANCISCO LÓPEZ
Title:
Untitled (2004)
Format:
CD
Label:
MoSo
Rated:
Along with many lengthy one-track untitled pieces, Spanish absolute soundscape master Francisco López sometimes releases titled-by-year works collecting shorter pieces and collaborations; in the last few months, MoSo has published this, and Anoema the (2005) one. Both feature López at his best, so I'll try to save as many raving remarks as possible. "Untitled (2004)" features nine tracks, most of them based on raw field recordings or sound material offered by the likes of Z'ev, Dimitris Kariofillis (Ilios), Nicolas Rousseau,etc., and none of them is less than very good. The masterpiece is probably the 20-minute "Untitled # 163 (for Pierre Schaeffer)", a powerful and unsettling acousmatic composition with (possibly) train sounds and mechanical rhythms, somehow similar to his recent cd on Unsounds; but also the menacing accumulation of hisses and reverberating drones of # 165 and the sense of unbearable pressure conveyed by # 159 (using field recordings from Singapore airport) could easily be ranked among López's best. The oddest piece is the last one, which uses as a raw sound matter the post-hc/math metal music of Swiss band Knut (the track was also released on their recent cd "Alter", featuring more interpretations by Tietchens, Ambarchi, Broadrick, Harris, etc.). It's not the first time that Francisco uses metal-related sounds (think of his double-kicks-based release on Alien8), but it's the first time, I think, that he keeps sounds so recognizable. I find the moments of chaos quite captivating, while I can't say the same for the repeated mid-tempo chug. But after all, while I easily headbang on insect and water sounds, I've never been a huge fan of Knut's geometric mosh-core. Having said that, it could be an interesting path to follow for López - and the cd as a whole is obviously brilliant.