Experimental / Avantgarde / Weird & Wired / Odd / Field Recording
Edit (2828)
problems
with image
availability
Xavier Iriondo of Uncode Duello, A Short Apnea, Polvere, Afterhours...whatever...is here with this new group called Oleo Strut. Mr. Iriondo had probably been sucked deeper into that temporal warp that brought his mind back in the seventies, definition: kraut-freaky-psychedelic-extravaganza. While Wallace is in some way becoming his own personal recreational area (he's involved in too many new releases to list them all), this guy is so enamoured of that music lost back in the days, that if Cramps records was still alive I'm sure he'd be part of their "pack". Be it the production or just Xavier's "heavy hand" in it, but on this 3" mcd the italo-french combo revives the ghosts of Faust, Popol Vuh, Can and the result is categorically high-quality. Dark and odd, like many other releases filed under the type, the soundtrack effect is strong, but obviously we're talking about Herzog, Argento, Fulci, Jarman (considering him the most recent extreme). Many acoustic instruments, organs, "intrusive percussions" (?), concrete noises and an incontrovertible night feel. This 3" should preannounce the release of a full length (like it happened with Polvere) and it's a good premise obviously. Xavier/Wallace: love it or leave it.


Experimental / Avantgarde / Weird & Wired / Odd / Field Recording
Edit (2817)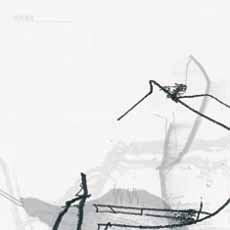 Artist:
DAVID CHIESA
Title:
Phonèmes
Format:
CD
Label:
Creative Sources
Rated:
I was not familiar with Chiesa's work, but in the same Creative Sources batch there's an improvised performance where he plays with Jean-Luc Guionnet (here offering his drawings for the layout), Eric La Casa and Emmanuel Petit, which I'll review anytime soon. "Phonèmes" features two improvised studio sessions recorded last november, where Chiesa explores the possibilities of double bass, his instrument of choice. I am always a bit skeptical when it comes to solo improvised recordings, but this French musician manages to pour both the free-flowing qualities of radical improv and a great sense of timing and discipline. "Phonèmes" is indeed an appropriate title, as Chiesa is apparently stripping the sound qualities of his instrument to their very physical components - from intense bowing to sparse thumps. It's obviously not an easy listening record, but there's an underlying, compressed strength to it that makes the experience a rewarding one.
Experimental / Avantgarde / Weird & Wired / Odd / Field Recording
Edit (2816)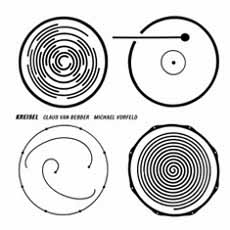 Artist:
CLAUS VAN BEBBER/MICHAEL VORFELD
Title:
Kreisel
Format:
CD
Label:
Creative Sources
Rated:
Aaaah, the ever charming sound of turntable motors and crackling vinyls! Here the man behind the turntable is Claus Van Bebber, while Michael Vorfel skillfully blends percussion and an unidentified "stringed instrument". Minimal sources but used in a pretty varied way, creating throbbing, multi-layered soundscapes, from the boiling surfaces of "Eingekreist" to the hallucinated stasis of "Gerundet", from the noisy outbursts of "Gekreiselt" to the percussive patterns of "Umrundet" and "Abgredeht". In the niche of improvised turntableism this is surely a nice release, and in spite of a few repetitive moments here and there, a tight one from start to end.
image not
available
anymore
Niko Scorpio has been active into different bands since early 90s. With each band he explored different musical paths and if with Thergothon he played dark metal, with This Empty Flow he explored the new wave and goth dark corners. Also as Niko Skorpio he already released different albums since the end of the 90s and this ESCAPE FROM HEAVEN is his eleventh release. Into his press sheet he named as his main influences Psychic Tv, Throbbing Gristle and Coil. Musically Niko doesn't make evident these influences (maybe Coil are the main one) by presenting a sound already known or musical solutions listened thousand of times. For sure the main things he shares with Coil is his interest into thelemitic arguments and about the research of human spiritual freedom. In my opinion this could represent the ESCAPE FROM HEAVEN, the rejection of the squared way of living and if the Catholic church pave its streets with gold, escaping from heaven could make the man opening his eyes without being blinded by such shining streets. Listening to Niko Skorpio's album the first thing that pop up is his will of refusing the boundaries of a precise genre. If main the track is paying its tribute to metal (and this is the only one), on the other ones you can find traces of mid oriental traditions (see the trumpets of the second part of "Dudael" called "A chasm in the desert") or tribal approach to rhythms. The nine tracks of the CD are permeated with will of experiment with emotions and music and most of them sound like an obscure soundtrack where melody surface time to time. It took five years to Niko to record this album and now you have the opportunity to check his inner feelings as on this CD he stripped his emotions like his body as you can see on its cover.
image not
available
anymore
Caboto from Bologna have arrived at their third "circumnavigation" and I'd say their emotional, post-fusion, jazzy impetus pushes the forward while sticking to their roots. There's something "old" (like every good wine) in the music of this band, some "electric-Miles Davis" flavour diluted in this "indie" potion. Differently from their previous album "Did you get visuals", the band added some vocals and some more "colours" but I'm sure those who loved their records so far won't be let down. The Hancockesque electric piano sometimes has that we can define a minimalist taste (even it's really far from serialism and from being "simple"), anyhow, it sails in a sea of troubled but yet calm guitar sea and on a groovy-jazzy rhythmic section. The vocals have made their debut on a few songs and it's a strange effects sometimes but in general I'd say the result is good. While with "Did you get..." I've had the impression the album was meant as a whole, in "Hidden or just gone" the focus is on the parts. While their improvisational flow combined with their great musicianship is still strong, they've timidly begun writing songs. According to my opinion some episodes have an incredible "phatos" (Canedineve, Disarchitetture/Glass elephant goes downtown) or even better that visionary/emotive touch that's one of their main qualities. Sad, psychedelic, jazzy, afro-american music for sinking ships and confused whales (if the layout has a significance).