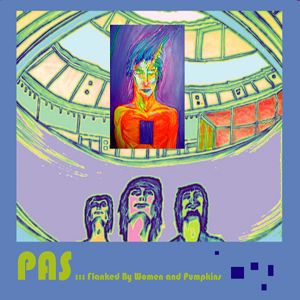 Artist:
PAS
(@)
Title:
Flanked By Women And Pumpkins
Format:
CD
Label:
Alrealon Musique
(@)
Distributor:
Plastic Head
Rated:
From subterranean corridors to ghostly '50s living rooms, NY 5-piece (and guests) PAS take you for an odd, auditory journey. Described by spokesperson Robert L. Pepper as "more soundscapes than "songs" in the traditional sense," there is still a dystopian sci-fi vibe that makes for a coherent listen.

Employing a battery of traditional band instruments - guitar, bass, drums, keys, trumpets, and percussion - PAS then illuminates these grooves with sonic bric-a-brac - found sounds, field recordings, and countless synthesizers. PAS flirt with atonal jazz, sound collage, doom metal, and '80s horror movie music during its sixty-minute duration. What could have been a stylistic clusterfuck ends up instead as an engaging auditory hallucination; a streak through the collective HORRORSHOW id of its creators. Don't get me wrong, this record is not cloaked in shadows and soaked in gore. If anything, its more polished chrome and burning red neon than cobwebs and candles.

The band claims that 'Flanked By Women And Pumpkins,' conceived during a tour of Poland in 2011, is "uncommercial". "There are no clearly defined melodies, no structural landmarks that give you any sense of traditional anchor," says Robert L. Pepper. The thing they may not realize is that many of us have spent the last 10 years blowing the dust out of our Eustachian canals with krautrock, harsh noise, drones, and field recordings. I have found, after repeated investigations, that 'FBWAP' falls nicely in line with the current Zeitgeist. Anybody that gets off on the endless grooves of classic cosmische jams, retro-futuristic techno, or John Carpenter-esque synthesizer scores, will find much meat on this bone.

I was all primed to hate this record, initially turned off by the glossy cardboard packaging, but the initial warm bass pulse of 'Electric Rain On Adams Bridge' seduced me. It comes off like a techno record, before degenerating into noisy crackling, then sluicing through some disembodied jazz. Its not as incoherent as it sounds; there is a universal pulse to this record. Its got a groove. It worked its way into my kitchen CD player for a week, before moving onto my headphones, making my trips to the bank and the shoestore far more futuristic and abstract.

'Flanked By Women And Pumpkins' was produced and mastered by Robert L. Pepper, dispelling the myth that a musician can't mix and master their own work. He has a deft touch; the recordings are full and well-rounded, and help to distinguish this record from the legions of bland noise imitators. Every sonic element is glowingly rendered in spacious reverb; all the pieces work as a whole. There are no jarring changes in volume, surprising considering the varied genres and instrumentation. The spell is never broken, and the listener is treated to 12 surreal, walking dreamscapes.

Purveyors of art-house classicism and bored-room jazz, take note. There may be clues here as to how 'high-brow' 20th-century Avant-Garde techniques can come together with current DIY-sweaty basement experimentation.

Uncommercial, my left ear. Go buy this.


Artist:
Grischa Lichtenberger
Title:
And IV (Inertia)
Format:
CD
Label:
Raster-Noton
(@)
Rated:
Someone could spontaneously echo the title of this amazing album by Duesseldorf-based sonic shrudder Grischa Lichtenberger by means of Massive Attack's notorious lyrics "Inertia creeps/moving up slowly", particularly after listening to some sonic contraptions included in this amazing collection, but the idea behind it according to Grischa's own words derives from a fictional "successor of the baksan neutrino telescope in the caucasus region", so that he seems to impersonate an astrophycist in the act of intercepting and following the route of some unknown microscopic particle in the outer space. If we take sonic particles, which have already appeared on our planet, into consideration, the most immediate link of sonic science by this German juggler could be with pearls from weaponry by Autechre (there are many echoes of their legendary album "Amber"), Vitor Joaquim, Claro Intelecto, Logical Disorder or Funkstorung (particularly when he assembles grooves - "1110_01_lv_1b", "1210_08_4+", "91028_v1" are definitively my favorite ones - which could be even interpreted by choreutics, if you don't suffer from discopathies or osteoarthritis!) due to the spotty digital suppurations combined with effected percussive elements, overstretched and overcompressed sounds, fractured breaks and rhythimcal polymers, but the most funny aspect of Lichtenberger's oeuvre lies in the integration of concrete sounds such as white broadcasting and so-called ant wars on TV connected to broken aerials ("0811_09_re_0211_08"), haywiring teletypewriters ("0112_01_st_rm") within his limpid (a)rhythmical ganglions, as if he's injterested in exploring those interzones where the seemingly perfect order of material structures gets dovetailed to seemingly chaotic combinations within an harmonious and balanced antinomy. "And IV (Inertia)" offers many moments which are going to tickle eardrums and sneaking in listener's mind to stimulate imagination in spite of his solid connection with "reality".
Experimental / Avantgarde / Weird & Wired / Odd / Field Recording
Edit (7252)
Artist:
Clara Engel
Title:
Tender
Format:
12"
Label:
Backwards
(@)
Rated:
Clara Engel is a Canadian singer with an expressive voice. As all artist with this particular feature is musical output is entirely based on the voice as instruments has the responsibility to create a quite impalpable background that has the function to close the void create by the natural rhythm of the verse.
"O my love is Hurricane" opens this release with a song based almost exclusively on the particular voice of this artist with only some sparse sounds as texture. "Illuminate me" is a folk song where the guitar has the role to rule the rhythm of the lyrics. "White elephant" features a jazzy instrumental landscape to the voice. "I wear your coat" is a lyric ballad for voice and guitar. "Opium song" opens the second side of this album (is released as a vinyl only) with an ethnical fell given by the percussion as a coloring element. "Why for an hour" is an evocative tune for voice and guitar while "How many horses" is instead for voice and piano. "Do you know how it is?" close this release with a folkish mode done by the mandolin.
This album is obviously not recommended for everyone searching for novelty, avantgarde or the next big thing however the simple form of a couple of instruments and a voice has a sort of charm that it's not easy to explain. It's that sort of beauty a down has, it's the thing you see everyday but it's the thing you cannot live without.
Artist:
Emanuele De Raymondi
(@)
Title:
Buyukberber Variations
Format:
CD
Label:
ZerOKilled Music
(@)
Rated:
Many people, who are digging the improvisational soils and their exotic seeds, could be conversant with Turkish born clarinet virtuoso Oguz Buyukberber for his nice tapping style and his musical syncretism, which aggregates elements from American jazz, European classical music and Turkish traditional one, but they supposedly ignore the talented Italian avant-garde sound artist Emanuele De Raymondi, who recently recorded his debut release in an inspirational loft in Kreuzberg, Berlin, in spite of his remarkable collaborations and performing experiences and just chose Buyukberber's improvisations to give proof of his acquaintance with electronic compositional techniques. Clarinet, "extended" techniques and electronics have never been in cahoots like in the most recent years - think about known and unknown musicians such as Milos Sugar, Karlheinz Essl, Georg Antoniv, Harold Rubin and many others -, but the sublimation of this nice member of winds family, which manages to produce "rissoles" of amalgamated high frequencies and bizarre harmonics, by De Raymondi sounds focused not only on different treatments of its sound - I particularly enjoyed the ones when Emanuele seems to stretch clarinet's voice and Oguz's breathe like in the second (superb!) and seventh variations as well as those ones when he "pricks" frequencies or manages to make them hiccup as he emulates a sort of cutting edge -, but also on a careful and extremely clear study on spatial placement of sound, which could be helped by the location he chose for the recording. The dedication of this debut release to Giorgio Mortari, the head behind the highly regarded and notorious festival Dissonanze, which he successfully organized in Rome by inviting very important names of different stylistical fields of electronic music, is really moving.
Experimental / Avantgarde / Weird & Wired / Odd / Field Recording
Edit (7249)
Artist:
Bernard Parmegiani
(@)
Title:
L'Oeil ecoute/Dedans-Dehors
Format:
12"
Label:
Recollection GRM/Editions Mego
(@)
Rated:
Recollection GRM is the worthwhile new project by Austrian label Editions Mego focused on the forerunning sonic research of legendary Groupe de Recherches Musicales, the hyperactive collective of sound artists and researchers created by Pierre Schaeffer, whose releases are authentic miliar stones for the development of the so-called musique concrete and electroacoustic music. Peter Rehberg's label should have justifiably thought that the reprise of some sonic jewels kept in GRM's archives could be a useful anthology for all those people, audiophiles and musicians, who are seriously approaching electronic music, so that Francois Bonnet and Christian Zanesi, coordinators of Recollection GRM project, decided to sift through them in order to reprint some of the most meaningful finds. After the reissues of GRM founder Pierre Schaeffer's "Le Triedre Fertile" (previously released by Philips in 1978) and "Granulations-Sillages/Franges Du Signe", one of the first release by Guy Reibel, first assistant of Schaeffer's electroacoustic composition courses at the Conservatoire de Paris, the third release of the series has been dedicated to a couple of astonishing sound collages by Bernard Parmegiani, the protean sound engineer who's expressly been numbered in the list of sources of inspirations by some effulgent star of contemporary electronic music scene such as Autechre and Aphex Twin. Named after the oxymoronic title of an essay by French poet Paul Claudet, "L'oeil ecoute" (meaning "The eye hears", released in 1970) is a majestic intertwining of concrete and electronic sound, one of the first release which was recorded in GRM's Studio 54; it begins with field recordings which sound grabbed during a train trip (according to many essaysts such a preface should be a tribute to Pierre Schaeffer's "L'Etude aux chemins de fer" (The Study of Railways) and carry on impressive sonic sketches, where you could easily recognize some of the sonic tricks which are still used by many electronic musicians. On the other side of the record, you'll find "Dedans-Dehors" (1977), an impressively realistic field recording-oriented long composition focused on the notion of metamorphosis, which, according to the explanation by Parmegiani himself, "is one of the principles that leads the course of the musical suite, reflecting changes (fluid-solid passages: water/ice/fire) or movements (ebb/flow/wave, inspiration/expiration) or inside-outside passages (door/individual/crowd). Thus, the perceived object is not entirely what we would have liked it to be. Our music brings us closer to some whilst it takes us away from others: each with their own inside.". Both of them are not just collection of stunning sound effects, but the words used by Parmegiani to introduce them seems to subtend some authentic aesthetic and ethic fundamentals as well as a sort of teaching about the infinite possibilities offered to our sense organs by stimuli whose existence often gets ignored by sentient beings, even just in order to feed and drive its imagination. Definitively a must-listen.