Experimental / Avantgarde / Weird & Wired / Odd / Field Recording
Edit (2481)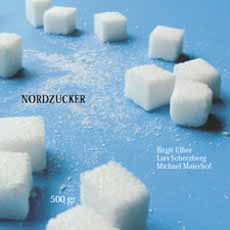 Artist:
BIRGIT ULHER-LARS SCHERZBERG-MICHAEL MAIRHOF
Title:
500 gr. nordzucker
Format:
CD
Label:
Creative Sources
(@)
Rated:
Third and last chapter (for now) of the Ulher-saga on this website. I could say this release joins perfectly some tension close to the work with Malozzi and Zerang but it also pays tribute to silence and breaks relaxing the possible listener. The list of instruments (trumpet, saxophone and cello) gives the idea this' a chamber trio and I think we can also dare to define "Nordzucker" as the electro-acoustic answer to chamber music. Probably 'cause of the line up I've caugh myself thinking some episodes were not that faraway from some old improvisations from that avant-jazz-scene which formed names like Tom Cora, Fred Frith and Zorn (a "holy trinity"!?). This cd is free from any itch hurry up, everything is kept tightly in control, every sound is accurately dosed and it keeps kissing the surface from below without breaking the icepack. Sometimes you'll probably guess if the parts they've played have been written, but honestly I think this music belongs to pure improvisation. The last hint that gives a real post-chamber-music aftertaste has to do with the natural reverb of the studio where it all has been recorded, this "natural ambience" is really classical or jazzy alike or al least in the same vein. The closing piece is a sort of exhibit barely sketched, you can't but love it. If you're completely new to the music of Creative Sources this could be a soft way to lose you virginity.
Experimental / Avantgarde / Weird & Wired / Odd / Field Recording
Edit (2471)
Artist:
TONY CONRAD WITH FAUST
Title:
Outside The Dream Syndicate Alive
Format:
CD
Label:
Table Of Elements
(@)
Rated:
BUY from
The story of Tony Conrad starts back in early sixties when he joined the ensemble formed by saxophonist La Monte Young, his wife Marian Zazeela, Bill Name, Angus MacLise and John Cale (which joined them at the same time of Conrad's) forming the Dream Syndicate. The experience lasted until 1965 when they disbanded after performing improvisation sets where the notes where played four hours creating a drone effect with acustic instruments. Tony Conrad with his violin experimented and explored the harmonic deconstruction. Later he collaborated with Cale, Lou Reed and later on early seventies it happened to met Faust members. In 1972 they recorded "Outside the Dream Syndicate". Conrad and Faust members collaborated again but only on mid 90s for a live concert. On that time Table Of Elements was reprinting the "Outside the Dream Syndicate" album so in 1995 Conrad and Faust decided to performe it live at Queen Elizabeth Hall in London. OUTSIDE THE DREAM SYNDICATE ALIVE is the recording of that performance and it sounds really violent if you think that is performed by people that was involved into the Kraut rock movement. The CD contains the fifty minutes performance plus the ten minutes encore. To try to explain to you how it sounds try to imagine a raped violin that plays dissonant chords creating a mesmerizing atmosphere. The pulsating drum and the bass guitar (which plays only one note) joins in about fifteen minutes later and starting from that point is a crescendo that last for other thirtyfive minutes. At the end bassist Jean-Herve Peron had his fingers bleeding. The ten minutes long "Encore" is similar to the first track but here the bass does some basic melodies, giving to the audience other throbbing moments.
The list of instruments includes lute, field recordings and electronics (lute is the dominant one), it may appear explicit but it doesn't say everything. With a cover like that, the obvious conclusion is this cd could be filed under classical/traditional music, sure, Jozef Van Wissem talks about classical studies in the booklet, but that's a reactualization of classical music and it's also full of grace. These "palindrome" pieces (which sounds the same played forwards and backwards) sometimes are really severe but every once in a while are twisted and their medieval (?) root becomes almost "contemporary-solo-performing". I imagine all of you are left wondering what the hell is this: "contemporary-solo-performing"...mmm...I'd say with that "self-made neologism" I just wanted to classify all that performers like Ikue Mori, Zeena Parkins, Augusto Parra, Fred Frith (just to name a few) that in some of their solo records have a learned style to which this musician is pretty close. Van Wissem's music has this strong classical accent but is also brilliantly mixed with an odd/abstract feel. Despite the obvious differences these litanies can be compared to those of Amber Asylum (except for songs of "sex and death") if it was not for the fact they have a different line up and they also sound darker. The title betrays a use of field recordings and electronics that by the way is really light, notwithstanding that "Objects in mirror are closer than they appear" is fresh and incredibly inspired. If the guys at Neurot recorings could have the chance to give a listen to this cd, I'm sure Van Wissem would appear in the guest musicians of the next Neorosis or Von Till/Kelly's solo. I suggest this record to many kind of listeners, including those with a strong goth taste, but it could be an interesting experience for many kind of music lovers. Recommended.
Experimental / Avantgarde / Weird & Wired / Odd / Field Recording
Edit (2459)
image not
available
anymore
Shangai surprise!! Here comes the debut solo of Mattia Coletti from Sedia fame, I've never been so much into that band even thought they're a good combo, but this solo album is completely different and above all damn good. To avoid any misunderstanding consider, differently from his mother band band, "Zeno" is an acoustic record borne out of psych-folk/weird-folk, the most of the song are guitar driven and this cd features outer space ballads coming from the seventies, neo-freaksters keep reading!. While playing this psychedelic-melodies many names came to my mind, basically: Red Krayola, John Fahey, Syd Barret, Devendra Banhart and obviously his mentor, mr. Marc Boland (no glam trip please, it's just for some vocal parts). I was also tented to mention Nick Drake, but Coletti is not so easy listening even if his music is relaxing. I think the fusion of every single musician I've mentioned gives the proper picture of the resulting whole, but for the youngster reading Chain dlk let's say this could recall Tim Kinsella during his weird acoustic trips relative to Joan of Arc. An high quality recording helps the songwriting to reach its full potential and some interesting arrangements define each particular of this album. Acoustic, freak and relaxing, good work.
Experimental / Avantgarde / Weird & Wired / Odd / Field Recording
Edit (2457)
Artist:
Yuko Nexus6
(@)
Title:
Nexus6 Song Book
Format:
CD
Label:
self-released
Rated:
I sit here frustrated at my work desk and looking for some form of escape I reach into my pile of releases waiting for review and my hands found this: Yuko Nexus6 "Nexuss Song Book". The CD is professionally pressed and the artwork has a nice vibe to it. Kind of aloof and casual. Original lyrics and English translations are included in the booklet which allow non-Japanese listeners to appreciate more than just the textural nature of the works thereby giving some insight into her actual intentions. Yuko Nexus6 should appeal immediately to fans of Michael Patton's self-titled solo works looking for extreme vocal experimentation and manipulation with a slightly less caustic edge to it... sometimes even a downright peaceful vibe. Drifting the edges of noise to lullaby, this release will not likely appeal to the casual listener of experimental music but more to those who've taken the time to appreciate the silence between the edits. While I appreciate the collage work on the release I find myself wanting to hear the material originally used for the collage instead of the collage itself... but maybe that's the point. It certainly has me focusing more on the music than I would more accessible releases. All in all it's a fine release with interesting material that comes across relatively pure and not too conceited. Stand out tracks are "Lazy Bones", "He's a Jolly Good Fellow" and "Tetsudoh Shoka"