Experimental / Avantgarde / Weird & Wired / Odd / Field Recording
Edit (1805)

Artist:
Large Number
Title:
Spray On Sound
Format:
CD
Label:
The White Label
Rated:
I didn't know quite what to expect when I popped this disc in the player. The mélange of strange items (which could pass for a mess on my bedroom floor) gracing the cover superimposed over an old analog synthesizer, beneath a green eye, topped by a brow-like feather, and capped with a pink box really grabbed my attention. Initially, I thought I'd be bombarded with straight-up, noisy experimentation a la Voice Crack or some of Nurse With Wound's more cacophonic offerings. Instead, I discovered a wide array of styles, sounds, and all around funky weirdness from former Add N to (X) founder/member, Ann Shenton and her new comrades. This rowdy bunch includes a blind banjo player, a guitarist, a female harmonica virtuoso, former Add N to (X) drummer Rob Allum, and a veritable plethora of synthesizers and other electronic toys that have been assembled by Shenton for the purpose of producing this strangely seductive racket. To put it bluntly, this is just plain cool! Each of the fourteen tracks is its own unique entity. "The Creaky O.K." kicks things off on an uncomplicated, funky note. "Pink Jazz" defines itself with its quirky vocals about (you guessed it) Pink Jazz and its trippy, oscillator-infused meanderings are a perfect backdrop for the strangely robotic discourse. "Hunchback in the Dark" is a purely instrumental stint, as low horns frolic gently in a field of gently chirping, retro-synth sounds. "Crazy" bops absurdly along in utter merriment, the male and female vocalists trading silly lyrical lines over softly vocoded backing vocals and a wonderfully relaxing guitar theme, before a beat interrupts the flow. "Chronosynclasticinfundibulation" sounds vaguely like a trip to the video arcade circa late 70's/early 80'. Xevious, Break-out, and a couple of others I can't readily identify are in the mix, along with some well-placed theremin shrieks, and a spate of insistent drumbeats, some of them bona-fide wooden-stick-on-stretched-skin, and some synthetic. "Spring on Electris" begins with a song from a tiny calliope and degenerates into erratic burps and bubbles of sound backed by a light soup of snares and cymbals. "The Transgenic Banjo Player" busts some seriously freaky moves, with its sneaky bass line and jazz-induced feel underlying a lament about "my body falling into the black hole of chaos." The song proceeds to do just that, as the banjo joins in for a brief spaced-out country jam, ultimately withering away into quietude. "Lexical Synesthesia" keeps the banjo in the mix, along with the guitar and acoustic drums. The requisite synth oddities take backstage to this broth of natural instrument sounds and a few sketchy lines of vocals that give this track the feeling of a more traditional song structure. "Autumn on Electris" marks a return to this fantastic locale – if this is what is sounds like on Electris, I'm booking a ticket today! "Today, This Flea" is a modest little 40 second bit, perhaps a suitably short and tidy ode to one of this small critters? "Love in the Asylum" is a gorgeous groove, powered by an infectious harpsichord hook, replete with swooping synths and an occasional wail from the theremin. "Twenty Two Seconds" reminds me of that shuddering-vibe sound effect used so often in murder mystery movies. The mystery here is embodied in the nearly indecipherable words, spoken lightly throughout this short track until it fades away. "Emotional Life of Animals" evokes images of an alien landing on some farm. One can hear dogs barking, cattle lowing, sheep bleating, and plenty of otherworldly noises in the background. A live recording of "The Earth Has Shrunk in the Wash" closes out this totally odd but addictive musical escapade. My only complaint is the short playing time, as the disc clocks in at a mere 38:16. Hopefully next time, they'll spray on some more sound!
image not
available
anymore
Artist:
MERZBOW
Title:
Sha Mo 3000
Format:
CD
Label:
Essence
Rated:
I haven't listened to much of Merzbow's digital production, and this cd made me regret that quite a bit. Coming in a gorgeous matte-cardboard gatefold sleeve (with Akita's ongoing obsession for chickens, here in a wildly psychedelic mood), "Sha Mo 3000", played with ma-computer, guitar and EMS synthesizer, is much more diverse and tasty than I expected. The noise element is crisp, and while I'm not a fan of laptop-generated noise, there is enough care here to keep it intense throughout. But what makes "Sha Mo 3000" particularly interesting is the attention to structure and flow. Save for the initial short burst of "Suzunami", all tracks are lengthy (above the 10/15 minutes mark) and quite elaborated. Akita is always minimal in choosing his sources (often just one looped sample), but at the same time very careful with variations and details, so that the sound doesn't stagnate - which is quite fundamental in a good noise (and ambient and...) release. The title track, with its drum samples creating a heavily rhythmic backbone for the screeching feedbacks, and the fuzzy guitar of "Hen's teeth", have a flamboyant rock feel which sounds like a respectful, if perverted, tribute to '70's space music and psychedelia. "Ghost hide your eyes" and "Dreaming k-dog", on the other hand, are full of subtle and disquieting atmospheres - electroacoustic/concrete music drenched in an acid bath? Of course, there is probably enough sheer violence to make this worthwhile for a noise freak, but, unlike many ultra-noise releases, this definitely begs for repeated listens.
Experimental / Avantgarde / Weird & Wired / Odd / Field Recording
Edit (1789)
It's hard to describe and value Ronnie Sundin's HÄGRING. This because this is an album more based on sensations and feelings than sounds. Silence plays a bigger part of the only track that you find on the CD. Concrete sounds and samples form what the press sheet call "wake dreaming or auditory allucinations". I found difficult to enter into the HÄGRING's realm but the alternance of silence/sounds catch your attention and somehow call for it. Being the third and final part of the Hypnagogic trilogy that started with "Sleepwalk" and "Morphei", HÄGRING isn't the end of the dream, because you'll find yourself asking if it's the everyday's noise what your are hearing or if your CD player is on. The mystery of the Swedish land pass through here...
Experimental / Avantgarde / Weird & Wired / Odd / Field Recording
Edit (1787)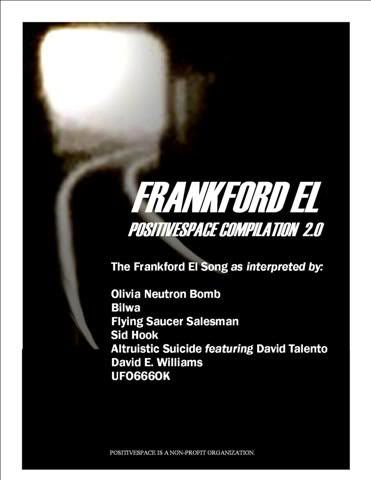 Artist:
VV.AA.
Title:
FRANKFORD EL POSITIVESPACE COMPILATION CD 2.0
Format:
CD
Label:
POSITIVESPACE
(@)
Distributor:
David E. Williams
Rated:
"You can't get to heaven on the Frankford El." "You can't get to heaven on the Frankford El." "You can't get to heaven on the Frankford El, because the Frankford El goes straight to Frankford." This silly, sing-song choral lament is the vocal centerpiece in this fun tribute to the Frankford elevated (or "el") train line, which was completed and dedicated in 1922. According to the liner notes this delightful diapason "is an old Philly favorite, sung around campfires, inside bars, and in recording studios for generations." Originally recorded by The American Dream on their eponymous album (which was produced by Todd Rundgren) in 1970, this song is revisited a lucky seven times by a menagerie of artists connected with the Philadelphia POSITIVESPACE organization.

First up is Olivia Neutron Bomb who, in addition to having an awesome, v/vm-esque parody name, have one hell of a good time with this song. The style is very upbeat and bouncy, as a whole gaggle of ladies belt it out loudly and proudly. Their verses are alternately funny and raunchy, suggesting alternate modes of transportation the first time around and lewdly describing the various things that can be "picked" on the Frankford El on the next go. There's also a good deal of hilarious editorializing that goes on throughout the course of the song. Bilwa is next, blending strange synth sounds with a light, infectious rhythm to form an interesting sonic sanctuary in which disembodied vocal and guitar refrains from various parts of the Frankford El song swim around, occasionally emerging to frolic about. The third iteration of the song is performed by Flying Saucer Salesman in a particularly creepy fashion. Whispered vocals warn aural passengers of that unreachable destination as fingers claw out a couple of major scale amid a field of spacey bleeps. The most abstract take is the 7:49 journey by Sid Hook, which features all manner of percussive sound-makers -- bells, cymbals, wood blocks, water bottles (?), various drums, and a subtle layer of shimmying, meandering electronic noises to tie them together (y'know, like that rug in The Big Lebowski that really tied the room together?). This mellow approach is left in the dust by the techno-powered Altruistic Suicide featuring David Talento. Four-on-the floor action and what sounds like actual samples of the El itself rolling along the tracks give this version a mild industrial feel. The twangy vocals go together with the pumping beat like America & apple pie! Next up, a slow, lumbering beat rumbles out of the station with conductor David E. Williams at the wheel. He guides his tour slowly and stealthily along the namesake railway, singing with perfect lucidity in his unmistakable voice, commanding the riders to "jump on board" as his synthesizer morbidly accentuates the passage of the spectral locomotive. UFO666OK teasingly extracts us from the slow-burning frying pan with a few short refrains of jangling, hippie-country-infused fun (perhaps sampled from the original recording?), only to cast us quickly back into the fire with an unforgettably brutal sample from The Exorcist III by George C. Scott.

Though it clocks in at a mere 23:59, this short, sweet salutation to the great Frankford El packs quite a wallop. Its variety of sounds and schemes makes up for its scant quantity with an abundance of quality.
This is the second CD produced by the POSITIVESPACE arts cooperative, based in Fishtown (which lies to the north of City Center, Philadelphia). Their first disc, entitled simply "Volume l," also features Bilwa, UFO666OK, and David E. Williams, along with A.M. Endeavors, Roachhowsen and Paul Aston Group, and the cover of each copy featured original artwork! This CD, like the Frankford El, won't get you to heaven... but it's still a damned good ride! Highly recommended.

Experimental / Avantgarde / Weird & Wired / Odd / Field Recording
Edit (1785)
image not
available
anymore
Artist:
DANIEL MENCHE
Title:
Drunk gods
Format:
CD EP
Label:
Lapilli
Rated:
After its remarkable debut with Francisco Lopez's "Untitled#119", Lapilli now releases an ep of one of my all-time fave artists. Through his extensive discography, Menche has developed a unique approach to noise, managing to fuse harsh electronics, minimal drones and concrete recordings into a mass of pure physical power. After a recent series of ok, but not earth-shaking releases, "Drunk gods" puts him back to the sheer brilliance of mature masterpieces like "The face of vehemence" and "Beautiful blood", and at the same time offers a diverse, possibly more daring work. The piece begins with a series of crazed glitches and pulses, sounding like an electronic device about to explode. Gradually and relentlessly, more layers (a sustained organ drone, insect buzzes, his trademark noise electronics, etc.) are added, up to a climax of head-splintering intensity. Believe me, the title IS an appropriate suggestion of what's going on here.